With behavioral emails, you can keep your customers informed of important events like hitting usage quotas, billing notifications, and more without requiring manual work or engineering resources. You can design HTML emails right in Moesif and include merge tags such as the SDK a customer is using or how many API calls they made. To reduce your maintenance overhead,
Moesif utilizes your existing email service provider such as SendGrid or AWS SES so you can reuse your DKIM authentication, click tracking, unsubscribe lists, etc.
Creating a behavioral email
1. Create the behavioral cohort
Before you can create a new email template, save a behavioral cohort for the criteria you want to target. A behavioral cohort can be saved by going to Users from the left-side navigation pane. Add your criteria in the filters, then select Create Cohort.
For full docs on creating behavioral cohorts, view this guide.
2. Create the email template
Now that your behavioral cohort is created, you can design your email template using the HTML editor. The easiest way is to click the Create New button and select Behavioral Email.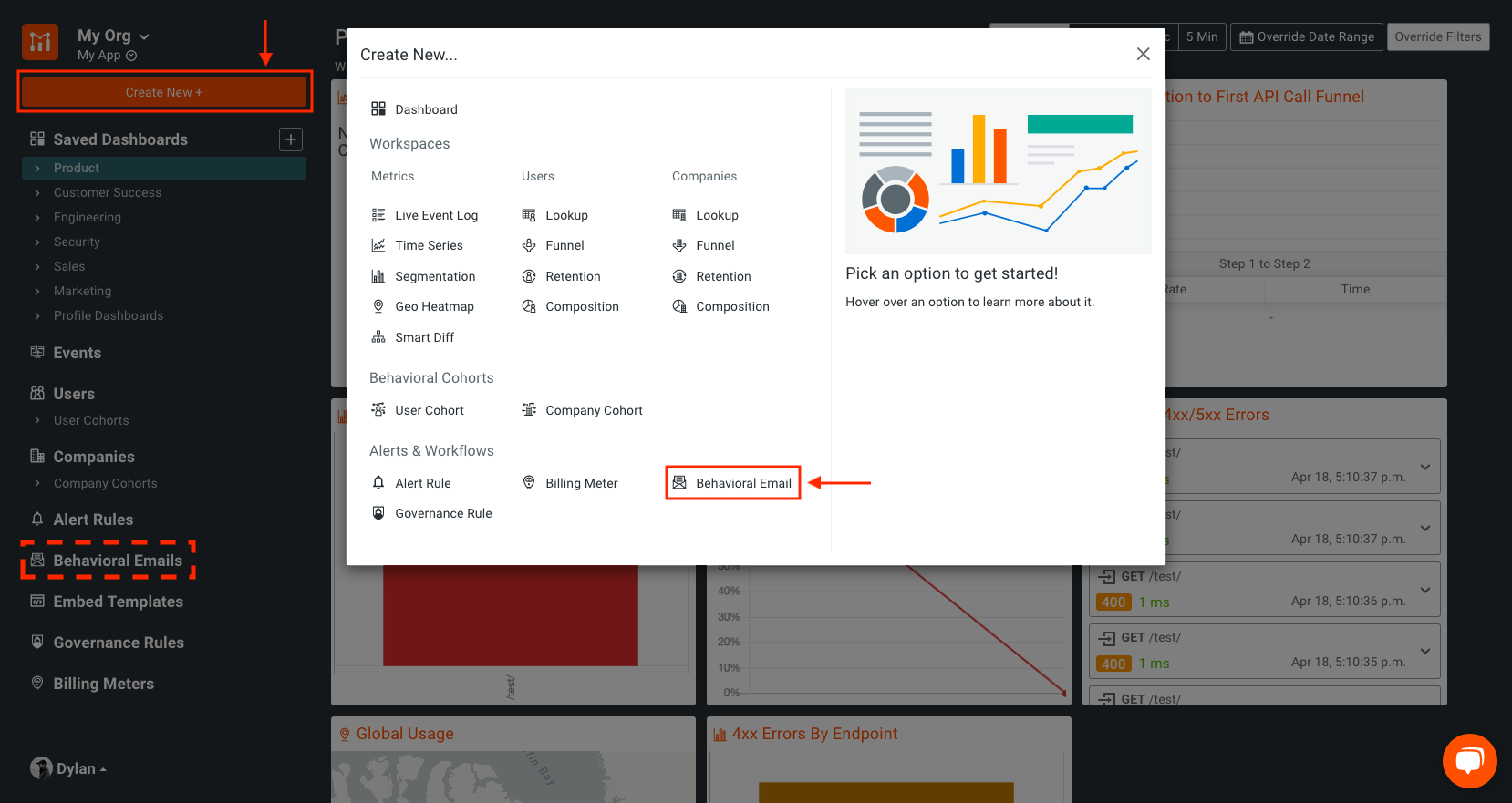 Alternatively, Select Behavioral Emails from the left-side navigation menu, both will bring you to the Behavioral Emails section. Within the Behavioral Emails section, click Create Template on the top right.

Select a prebuilt template or select Blank if you want to start from scratch.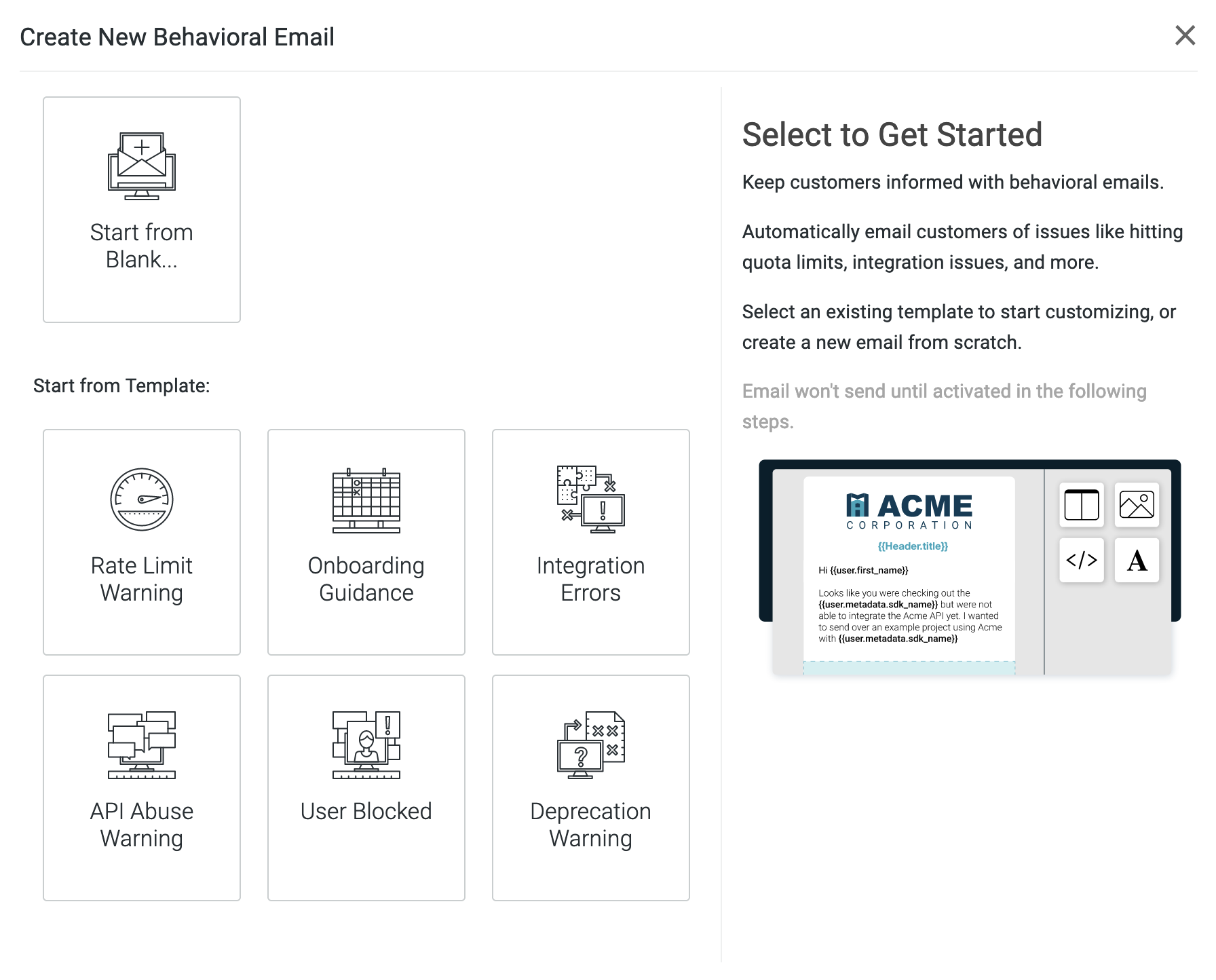 Once the editor opens, there are a variety of fields you can populate in the email template: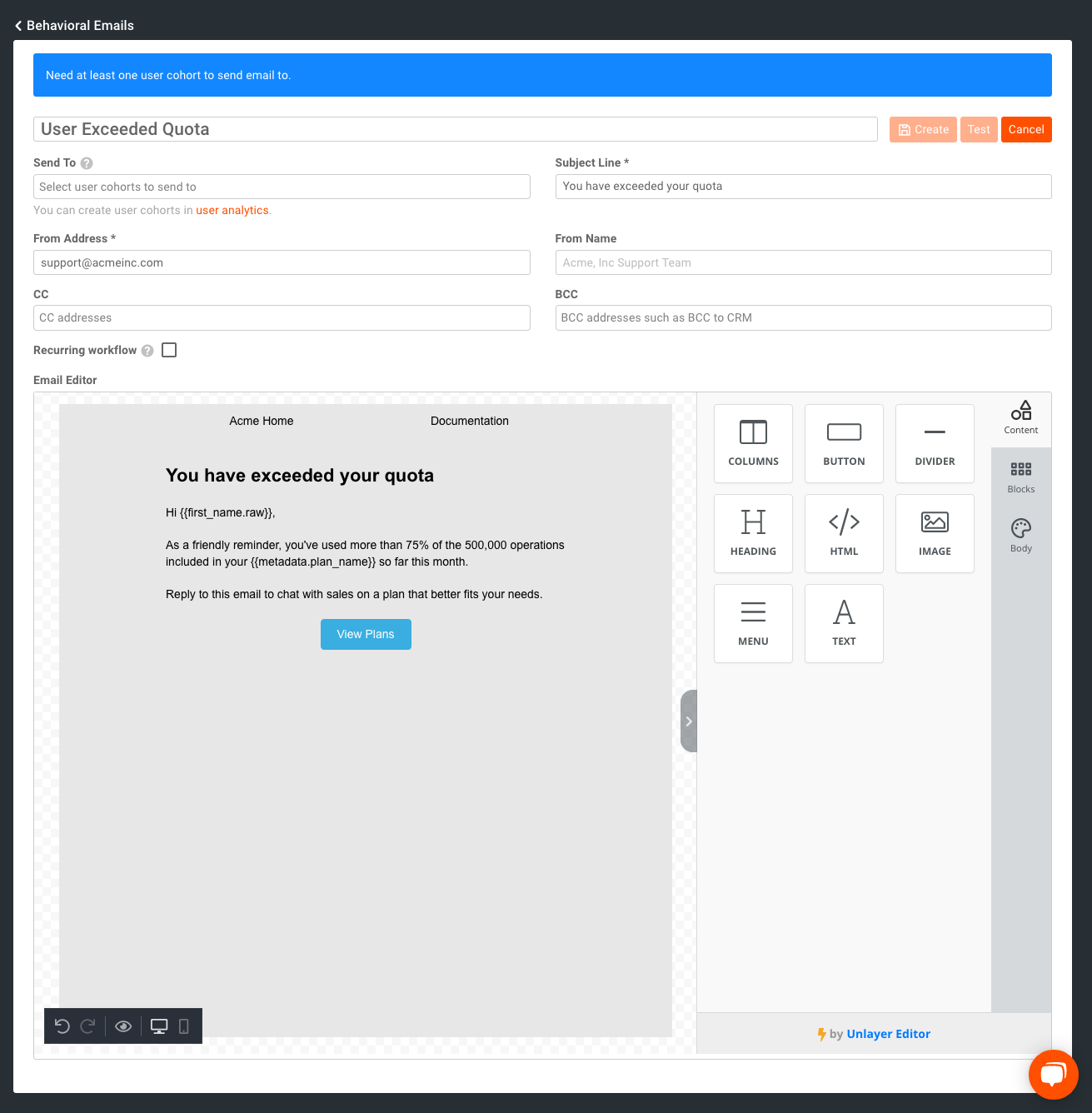 Send To
You can send your email to any saved user cohort. A saved user cohort is a dynamic group of users defined based on their behavior such as "Users who made over 100 API calls in last 5 days from Node.js" and can be created within the users analytics panel.
Subject Line
We recommend writing short and concise subjects that describe the contents of the email.
From Address and From Name
The from address is the address which will be used to send the email such as support@acmeinc.com. Keep in mind your domain should be configured correctly for DKIM and SPF in your email provider for the best deliverability. The from name can also be specified.
CC and BCC
You can also add a CC or BCC. Many CRMs provide a BCC address so you can log any customer communication right in your CRM.
Recurring Workflow
Normally, a user can only receive the same email once. However, you can make the template recurring. Users who still meet your cohort criteria can be re-enrolled into this email workflow. Recurring workflows are useful for things like exceeded quota warnings, monthly billing reminders, etc.
If you set the workflow as recurring, you must define the time period that must pass before a user will be eligible for re-enrollment. Keep in mind the user must still be a member of your cohort after the time has passed.
For example, if you want to create a workflow that sends warning emails to any customer who exceeded their subscription up to two times per billing month, you could define the re-enrollment period 15 days.
Email Editor
The email editor allows you to build beautiful, responsive emails using drag and drop content modules. The templates have been extensively tested with Litmus and Email On Acid to ensure rendering in a variety of email clients.
Tools
There are two types of modules you can add to your email template:
Layout blocks which is a container that can hold content modules and make layout easier for things like multiple columns.
Content modules such as text, images, and even custom HTML. Content modules can also be placed in layout blocks.
To customize the style of the email like link colors and typeface click the body button.
Merge Tags
Merge tags allow you to personalize the email for each user. Merge tags can be inserted into a block of text by clicking on the "Personalize" button in the text editor toolbar. Any user field including custom metadata can be inserted into the email such as the name of the user or their plan.