Moesif is an API Analytics service that helps product driven API teams make smarter decisions form their data.
Segment is a managed data pipeline that can move data in/out of product and marketing analytics tools.
The Moesif Segment integration can act as either a Segment source or a Segment destination.
Segment Destination
Segment will send user engagement and profile data to Moesif to get enriched customer information on who is using your APIs for deeper cohort analysis and more.
Use the Moesif Segment Destination if you want to:
Enrich Users and Companies with customer data in your CRM.
Perform cohort analysis on API retention in Moesif based on subscription and revenue information.
Track which customers are close to or exceeding their subscribed plan quota.
Segment Source
Sync Moesif API insights and user profiles to Segment to sync to your favorite business intelligence, CRM, and marketing automation tools.
Use the Moesif Segment Source if you want to:
See which customers are integrated and how much their using your APIs in your CRM
Send targeted emails to your customers depending on which API features they're using, if any.
Get a holistic view of both UI and programmatic product engagement in web analytics tools.
Setting up Moesif's Segment Destination
From your Segment UI's Destinations page click on "Add Destination".
Search for "Moesif" within the Destinations Catalog and confirm the Source you'd like to connect to.
Drop in the "API Key" into your Segment Settings UI which you can find from your Moesif account and going to the extensions settings.
Once integrated, Segment data shows up in Moesif in a few seconds.
Setting up Moesif's Segment Source
From your Segment UI's Destinations page click on "Add Source".
Select HTTP API within the Source Catalog and confirm adding the source.
Copy the Write Key from the added source. You'll need this later in Moesif.
From your Moesif portal, go to the Settings menu and click Extensions.
Select Segment, within the extensions catalog and add your Segment Write Key in Moesif when prompted.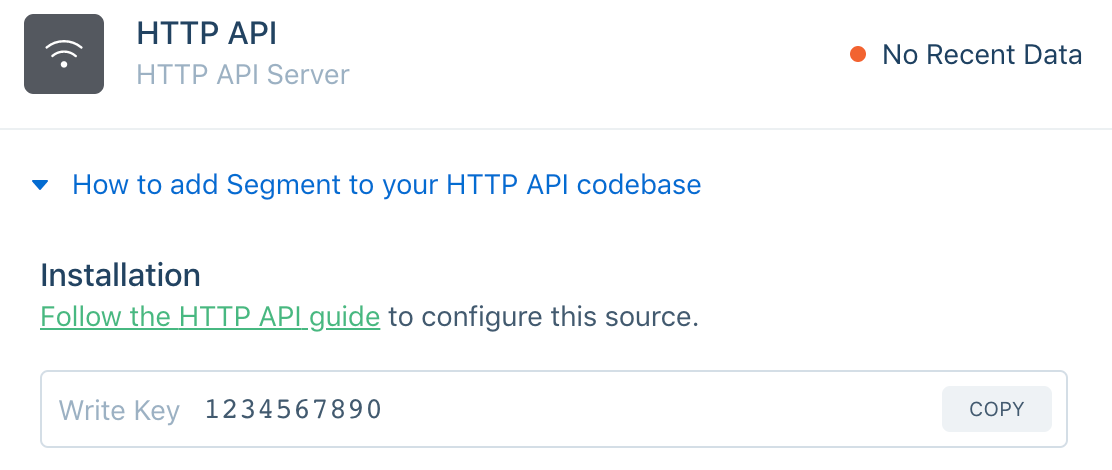 Want to start making data-driven decisions that grows your API business?

Learn More