API Strategy
Choosing the Right API Monetization Solution: Apigee vs. Moesif for Different Customer Sizes
As companies increasingly rely on API based systems and processes, API management becomes more and more important, serving as the linchpin for facilitating communication between internal and external applications or services. Deciding which API management solution best fits your business' use cases is no easy feat. Picking a tool that caters to the complex needs of your organization's digital transformation starts with understanding the market and your products' needs.
Apigee, widely known for its robust scalability and powerful capabilities, has often been associated with large enterprises and API security, while Moesif boasts a versatile approach, successfully navigating large-scale deployments with industry giants like UPS and Deloitte and mid-sized to small enterprises thanks to its Product-Led Growth (PLG) strategy.
Apigee: Tailored for Large Enterprises
Apigee API management is an industry leader APIM space, particularly when it comes to the demands of large enterprises. Its largest strength lies in its scalability, providing a powerful infrastructure capable of handling high volumes of API traffic. Apigee Edge has the ability to scale resources means that even in the face of increasing workloads or requests, performance remains consistent and reliable.
Apigee also prioritizes security and compliance, recognizing the importance of protecting user's sensitive data and adhering to industry regulations. The API management platform balances advanced security protocols and compliance measures to instill confidence in enterprise customers that their API ecosystems and products are not only functional but also well-guarded against potential threats. The emphasis on scalability and security makes the Apigee API platform a go-to solution for large enterprises seeking a dependable and secure foundation for their extensive API management needs.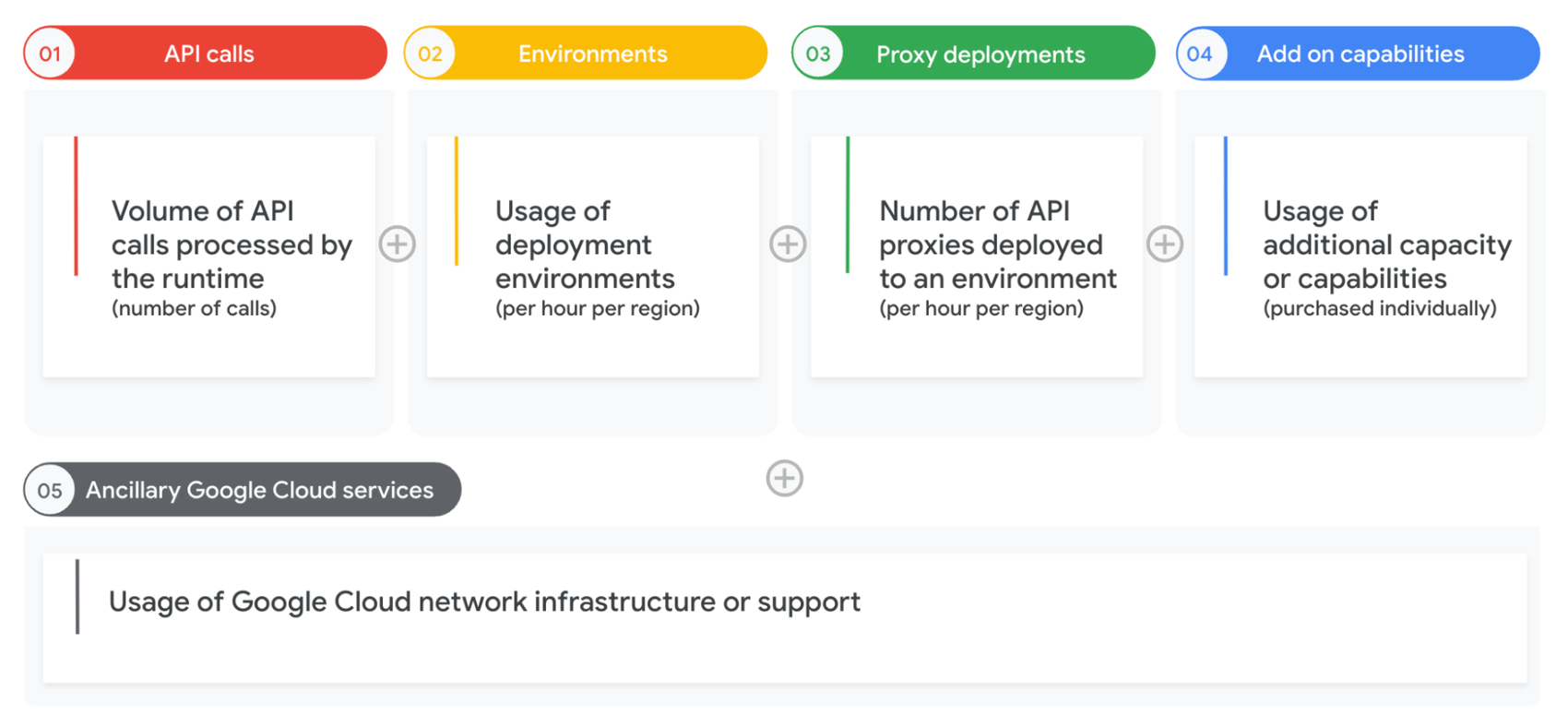 When it comes to deployments, the Apigee pricing structure fits the needs of expansive enterprises. Or, rather, of enterprises that are currently or will be able to financially afford scaling. Because Apigee is designed for handling large amounts of API traffic, the initial costs of standing up the management tool may not cover the total integration cost. Apigee is a complex tool for developers to adjust to, and is often perceived as expensive due to its enterprise-grade capabilities that may exceed the requirements of smaller businesses. Apigee understands the complexities inherent in managing large-scale API cloud ecosystems, offering a pricing model to accommodate the scalability needs of large businesses. While specific pricing plans vary, Apigee generally provides flexible options through traditional subscriptions and Pay-As-You-Go (PAYG) options, allowing enterprises the flexibility to scale their API management solutions according to the magnitude of their operations.
This flexibility around pricing and the ability to customize plans to match the size and scope of a large deployment make Apigee an attractive choice for enterprises in need of not only robust API management capabilities but also a pricing structure that scales with their evolving needs. This ensures that as enterprises grow, their API management solution remains both powerful and cost-effective.
Moesif: Versatility Across All Customer Sizes
Moesif sets itself apart with remarkable flexibility by catering to a diverse range of customer sizes and apps. Moesif's capacity to handle the API analytics needs of sizable organizations and small enterprises alike proves its capabilities extend to enterprises of any size. Moesif employs a strategic approach to cater specifically to mid-sized and small enterprises through its innovative Product-Led Growth (PLG) strategy. This approach empowers developers with a self-service model, allowing businesses of any size to leverage Moesif's capabilities, enabling them to scale their API product or solution seamlessly.  Notably, Moesif also successfully supports large enterprises, exemplified by industry leaders like UPS and Deloitte -the adaptability of Moesif for various customer scales is attributed to key features embedded in the platform.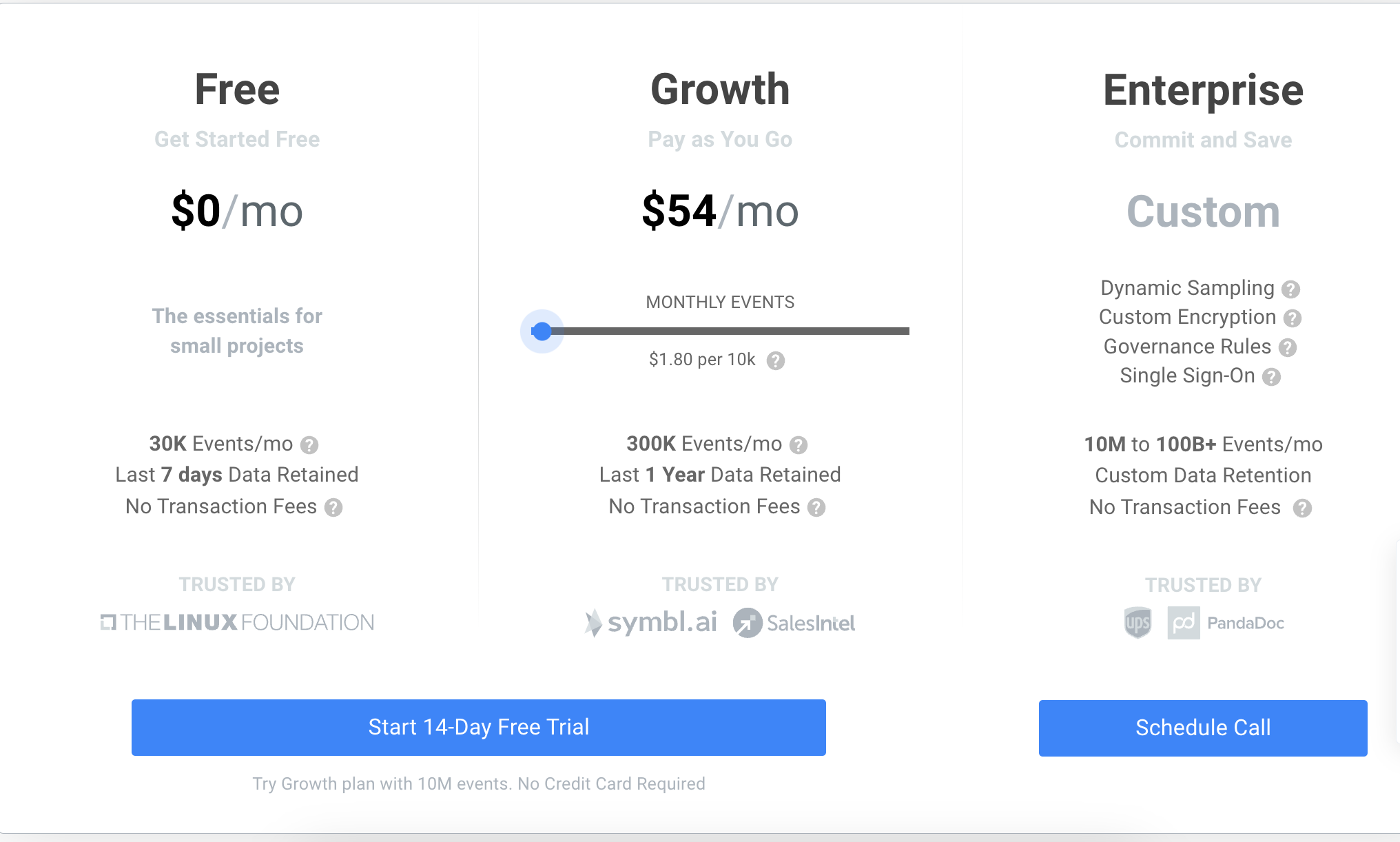 Moesif's analytics and API monitoring capabilities, for instance, offer a highly detailed level of insight that can benefit both large enterprises managing complex products and smaller organizations seeking to streamline solutions. Additionally, Moesif emphasizes user-friendly API documentation, a customizable developer portal, and easy integration options for low and no-code users, ensuring accessibility for businesses at different stages of development and across functional teams to facilitate meaningful API testing. As part of its commitment to adaptability, Moesif's pricing structure accommodates the diverse needs of businesses, offering plans that scale with specific requirements for large enterprises and smaller organizations alike. This flexibility in pricing ensures that Moesif remains an inclusive choice, providing robust API management solutions regardless of a customer's size or scale of operations.
Feature Comparison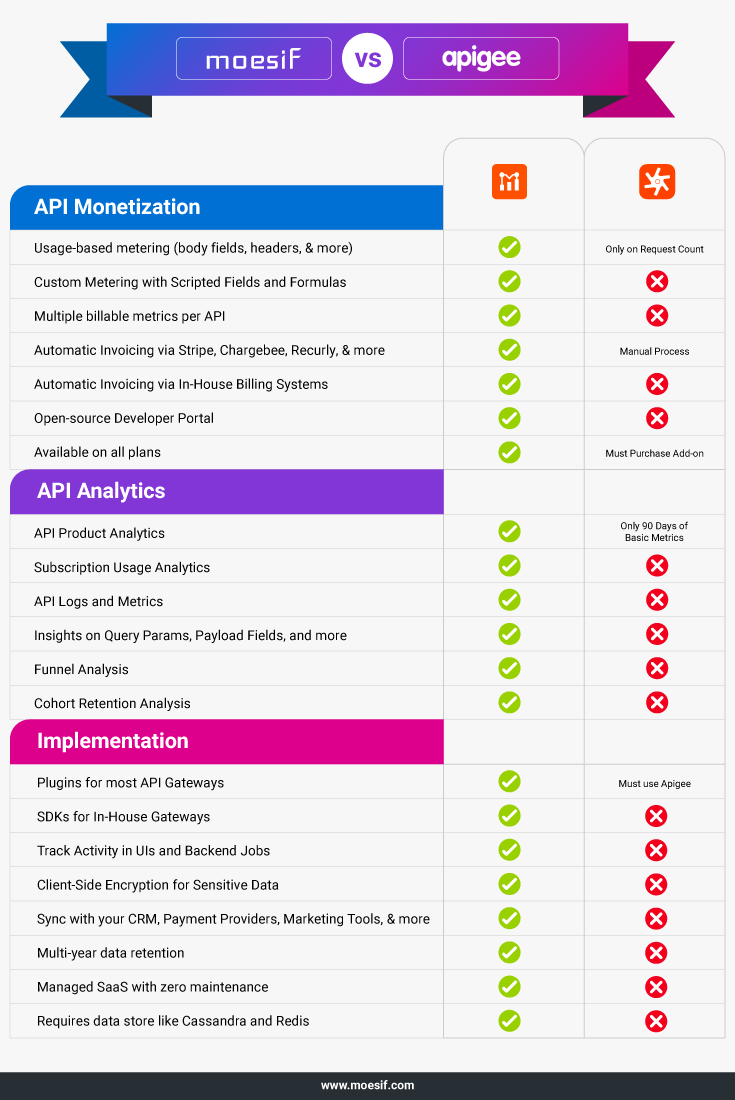 Scalability and Performance Benchmarks
Apigee: Renowned for its scalability, Apigee can handle high volumes of API traffic. Its architecture ensures that as the API demands increase or business scales, Apigee distributes the load across multiple instances seamlessly. Apigee's ability to maintain low latency even during usage spikes makes it an ideal choice for enterprises with extensive or fluctuating API workloads.
Moesif: Moesif emphasizes ease of scalability, evidenced by its successful partnerships with large and small enterprises alike. Moesif offers flexibility and confidence to the API management needs of corporations of any size. Moesif's performance benchmarks can handle substantial data while providing deep insights, making it suitable for businesses with varying levels of API traffic or API call volume.
Customization and Flexibility
Apigee: Apigee meets various needs of large enterprises through extensive customization options. Organizations can create custom policies to fine-tune security, access management, and analytics.
Moesif: Moesif's flexibility makes it attractive to mid-sized and small enterprises. Moesif offers user-friendly interfaces and easy, low, and no-code configuration. This makes it ideal for businesses needing a powerful yet straightforward API analytics solution.
Integration Options and Ease of Use
Apigee: Apigee offers various integration options and connectors for compatibility with diverse API systems. However, these API management tool features can pose a steep learning curve for users, especially in larger enterprises with complex tech stacks or products.
Moesif: Moesif prioritizes ease of use through its PLG strategy. The platform provides simple integration options and intuitive interfaces, making it suitable for users with varying levels of technical knowledge. Moesif's user-friendly design suits organizations seeking an approachable but granular API program. Unlike Apigee, Moesif interfaces with various API gateway partners and SDKs, so users are not locked into a single vendor or cloud endpoint.
Total Cost of Ownership (TCO)
Cost Implications with Apigee
Apigee offers a pricing structure designed to accommodate the diverse scales of businesses. While Apigee may be the best fit for large enterprises with expansive budgets, mid-sized and small businesses should assess whether Apigee's advanced features align with their use case. This cost consideration should extend beyond initial investment, to account for potential scaling of API request volume or ongoing maintenance. While Apigee's comprehensive features are valuable for large enterprises, small businesses may not require the same level of scalability, making the cost of Apigee seem disproportionately high.
Cost-Effectiveness and Value with Moesif
Moesif's pricing structure was designed to provide scalable solutions for different customer sizes. Moesif's pricing structure reflects a balance between affordability and functionality. It's important for businesses to understand not just the upfront costs of integration but also the long-term benefits and potential savings when opting for Moesif. Thanks to Moesif's flexible pricing tiers, organizations can easily scale their plans as feature needs become necessary or irrelevant to their API program.
Decision-Making Considerations
The choice between Apigee and Moesif hinges on factors such as scalability, customization needs, and financial constraints. For large enterprises with complex API ecosystems, Apigee's robust features and inherent scalability may be apt. Conversely, mid-sized and small enterprises may find Moesif appealing for its user-friendly but accurate reporting, ease of use, and cost-effectiveness. Businesses should align API management choices with their size and product requirements. Carefully consider factors like API traffic, customization, forecasted growth, and budget.In the end, organizations can find the perfect API management solution for their digital goals by exploring their unique deployment needs. Plus, they can easily test Moesif's solution with a free trial.