API Strategy
Meeting Moesif with Head of Developer Relations Matt Tanner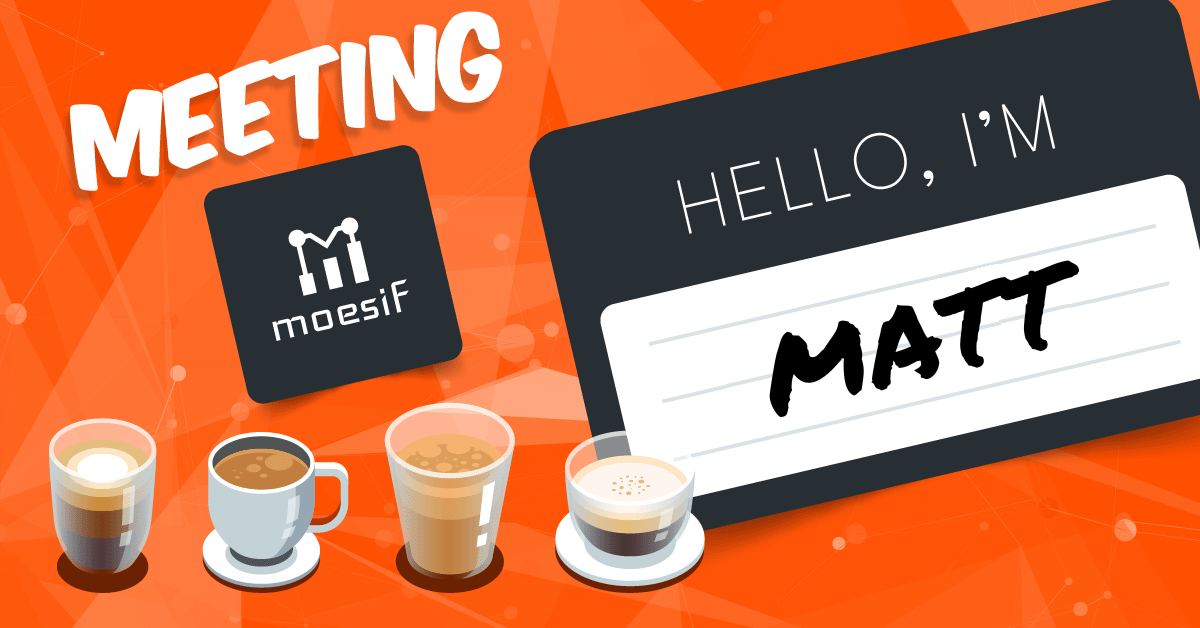 Matt is the Head of Developer Relations at Moesif. He currently splits his time between Ontario and Prince Edward Island, Canada. Before getting into Developer Relations, Matt previously worked as a software developer, team lead, and architect at various large enterprises. As part of our Meeting Moesif blog series, we ask him about his role at Moesif, how he handles working remotely in a different country, and his views on Moesif fitting into the API landscape of today and in the future.
What is your job title and what does your job entail?
My job title is Head of Developer Relations here at Moesif. The role is quite diverse since you help out all aspects of the company including marketing, sales, engineering, and product. Being the glue between these departments and being a subject matter expert on the product is paramount to our roles in Developer Relations. We do everything from write technical blog, talk with other companies for potential partnership opportunities, to even sitting on client onboarding calls to help explain the product from a developer lens. In the developer relations jobs here at Moesif, we have one goal: to help make Moesif the best it can be for developers (and for all Moesif users).
You work fully remote; how do you separate yourself from work?
Working remotely has its benefits and drawbacks. It is very much your responsibility to make sure that you get your work done by being productive, but you also need to be a gatekeeper to insure that you take sufficient time away from work. I'm a firm believer that when people enjoy the work they do, are well rested, and appreciated, that they do their best work. This is what I strive for in my own work and life, as well as for anyone on our team. Moesif does a great job with promoting this. All that being said, I enjoy working with Moesif in the Developer Relations space so much, that most days it truly doesn't feel like work anyways.
What do your workspaces look like?
My workspace looks different depending on the work that I'm doing. If I need to do some deep work for video or written content, I will usually use a desk with a large ultra-wide monitor. If I'm on sales calls or other meetings, I'll generally take them at various areas throughout the house to keep my environment different throughout the day.
Gear wise, I use a 17-inch MacBook Pro and if I'm working away from my desk I will use Sidecar to use my iPad as a second screen. The ability to do that gives a huge amount of flexibility when you're away from your desk.
As Moesif is a small company, have you felt called to lead in ways you hadn't before?
Working for many smaller startups over the years, this was expected. The great part about Moesif is the collaboration that happens as you begin to stretch and work with different parts of the company. There truly is a culture of learning here that gives everyone the chance to learn and lead in the ways that they want to.
Moesif is a company where everyone is encouraged to ask questions and fully understand what we are building. Even our Sales and Marketing teams are fully aware of the product vision and the problems we are aiming to solve. If someone wants to lead, there is always trust in allowing a person to do so and the support to make sure that they are successful with it as well.
Where do you see Moesif fitting into the future of APIs?
I see Moesif fitting into the future of all products, APIs included. Our platform allows any business to break down what they are doing well and what they need to improve on. Plus, we give these users the tools to start to action upon these insights and track to make sure that the changes they are making are leading to improvements for their users. If someone is building a product or looking to improve an existing one, whether that's onboarding, retention, etc., then Moesif can give them the tool set to improve.
A final piece that I'm really excited about is our Billing Meter functionality. Working to monetize APIs in the past I can appreciate how hard it can be to do effectively. With Billing meters, we can send usage data to Stripe, Recurly, and Chargebee through a really simple integration (that takes about 5 mins to set up), set up the criteria to bill on, and have usage reported to the providers in a few minutes. To me, this is really a feature that helps to solidify a direct impact that Moesif can make on the future of APIs and API products.
About Meeting Moesif
At Moesif, we help our customers understand how their APIs are used and how they can grow their API platform. Meeting Moesif highlights the people making that vision a reality. Our people-first culture values open communication, initiative, and impact — not to mention, perks like flexible working options that ensure employee wellness.
If you're interested in joining, you can start by learning more about what it's like to be part of Moesif. Our Meeting Moesif blog series offers a glimpse into our office life and how we expand API observability for all of our customers. Follow the link below to see other Meeting Moesif interviews with team members.