API Strategy
Meeting Moesif with AdOps Manager Rachael Kiselev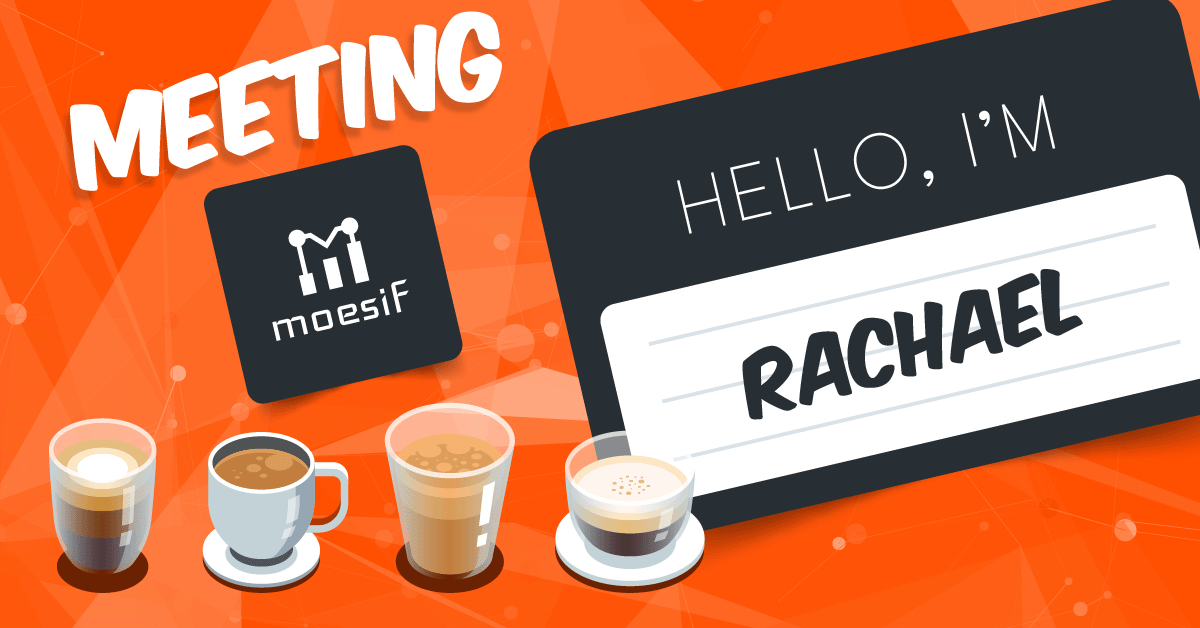 Can you imagine explaining API observability with two cats meowing in your lap? Meet our resident multitasking expert, Rachael Kiselev. She's the mastermind spreading awareness about an entirely new way to analyze APIs, in 300 words or less. As part of our Meeting Moesif blog series, we ask her about the future of APIs, and what it took to transition from new grad to tech marketer during a global pandemic.
What is your job title and what does your job entail?
I'm a content marketing manager, but really that's a pretty fluid title. I handle digital marketing as it relates to content. A lot of the digital ads that you might see on sites like Reddit are mine. Well, they're a joint effort on marketing and design to create a cohesive ad front. I handle some of the SEO practices like UTM tagging blog posts or adding calls-to-action in pieces that other Moesif employees write. Supporting the marketing team in general as a generalist is what I do in my free time, too. So anything from transcribing a podcast to doing competitor research, etc. I try to focus on supporting the sales funnel as much as possible.
We're just coming out of a global pandemic that changed everything. How did your working life evolve with the rest of your life?
Prior to COVID, I had actually just graduated from university. So really, I didn't have any true "job" experience in the working world, more like prior in-person internships. When I graduated I was working at a non-profit managing their Google AdWords, newsletters, the like. I ended up working for a small, boutique agency right around when the first lockdown started. While there, I was fully remote and like a lot of people, really missed face-to-face interaction. It was kind of lonely, only communicating via chat or Zoom.
When I left that position, I knew I wanted to be somewhere that allowed for flexibility around remote work but offered an in-person space for collaboration. Thanks to the dropping numbers in the Bay, Moesif employees have been able to work in the office at their discretion. After my initial onboarding experience, I became a kind of "flex" worker, so I come up at least once a week but no more than two or three days of the week. It's good for me, because I live pretty far down the peninsula, and it wasn't until recently that our public transit systems added better air filters. In short, the commute to the office can be a little crowded, so it's preferable not having to do it every day. Also, working from home means that I can deal with issues that arise in my house in real time instead of being pleasantly surprised by the gifts (and messes) my cats leave me.
Where do you see Moesif fitting into the future of APIs?
I guess in an ideal world, APIs will look nothing like they do today, meaning there's a good chance that the APIs of today will be somewhat different than the APIs of tomorrow. I see Moesif as being an integral part of the shifts companies will roll with as the API landscape evolves. I see Moesif continuing to further customer's understandings of their APIs, therefore enabling evolution across market segments. I think Moesif's greatest value is being able to dig into APIs to understand and monetize API usage. So being able to be at the forefront of things, giving companies a chance to iterate and improve on their APIs will help further technology as a whole. Again, we already see that the API economy has shifted away from REST APIs and towards GraphQL, so there's already a change to the API landscape. I think in the next few years, we will expand our support capabilities and become even more integral for API-first companies to remain iterative and at the forefront of technology.
What do your workspaces look like?
Messy, to be frank. My desk at work looks like no one lives in it, except for a small acrylic stand I have. My keyboard and mouse are still in their boxes. At home I have a few monitors at my desk but generally split my time between my desk and my couch. I've mastered the art of working efficiently and ruining my posture in one go. Also, my cats follow me everywhere I go, so they're my bonus coworkers.
Can you tell us a bit about your background, and how you got to Moesif?
My past experience was digital marketing inclined. I have an advertising degree and an information science minor, but ended up in marketing. A lot of my minor revolved around data aggregation and visualization (with a focus on ethics and policy in regards to information). I think that my analytical background strengthens my marketing and advertising skillset because data powers everything. Moesif being an "analytics first" product makes us an inherently data-driven company. As such, it feels like a natural fit for me.
About Meeting Moesif
At Moesif, we help our customers understand how their APIs are used and how they can grow their API platform.
Meeting Moesif highlights the people making that vision a reality. Our people-first culture values open communication, initiative, and impact — not to mention, perks like flexible working options that ensure employee wellness.
If you're interested in joining, you can start by learning more about what it's like to be part of Moesif. Our Meeting Moesif blog series offers a glimpse into our office life and how we expand API observability for all of our customers. Follow the link to see other Meeting Moesif interviews with team members.
Get the Biggest Business Impact from your APIs with Moesif
Learn More