API Strategy
Meeting Moesif with SEO Manager Savannah Whitman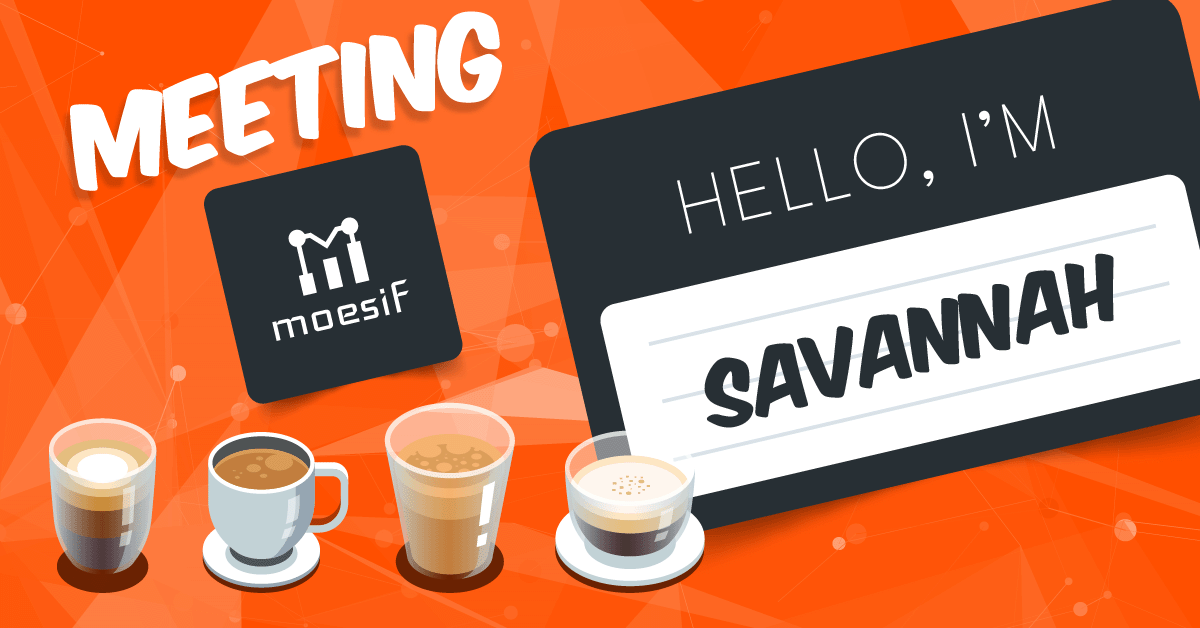 Meeting Moesif - SEO Manager Savannah Whitman
Growing your career can be both scary and exciting, and our SEO manager Savannah Whitman experienced both before joining Moesif. Now she's nurturing search rankings to bring the latest in API observability to technologists who need it. In this installment of Meeting Moesif, we talk to her about where API technology is heading, and what it takes to keep up.
How would you describe your role at Moesif?
On paper? I'm the SEO manager in-house, making sure anyone interested in API observability finds our advice.
The truth? Everyone in SaaS has an opinion about where APIs are headed. Not everyone has a category-creating product like Moesif's user-centric API analytics. It's proof enough that our knowledge base is targeted at technologists operating on the edge of what's possible. That's why I leverage my (not so) magical powers to make our content pop up on Google, DuckDuckGo, or wherever the API enthusiast searches for answers.
Like any startup employee, I'm usually wearing more than one hat. I actually started out in PR and digital marketing, so I'm often treated to projects outside of SEO.
As Moesif is a small company, have you felt called to lead in ways you hadn't before?
Absolutely. In my past roles, I offered behind-the-scenes support for larger teams. During the first five years of my career I played PR assistant, marketing freelancer, ghostwriter, you name it. Those experiences taught me what a mutually beneficial brand-customer relationship looks like. At the same time, I started to spend time with brands I was truly interested in - API-first companies like Auth0 and Postman. Eventually, I realized I knew what I wanted, and how to get it. It was time to enter the next stage of my career.
Taking that leap is easier said than done, however. I think for female and gender diverse tech workers, there's a sense that you need to fight for your seat at the table. It's important to remember that not every company operates that way.
At Moesif, there's a seat for everyone, whether we are sitting down for our catered lunch or a planning meeting. I've been surprised by how easy it is to grow in this team. Here, I'm free to design and run my own projects, rather than only executing on that of others'. Even more refreshingly, I'm doing so with the support of an entire team, instead of doing so alone as a freelancer.
What are the most exciting challenges facing API products today?
I'm eager to see APIs trade their identity as a new, unvetted technology for that of a reliable, mature one.
API-first companies came of age at about the same time I did, in the late 00's. Facebook and Twitter announced their APIs for the first time, setting a new standard. Back then, I was a FIRST Robotics student communicating technology for the first time, hawking consumer tech to sponsors. Call it sentimentality, but I hoped my career would grow alongside the tech trends born in that era.
We're now in the 2020's, and I've gotten my wish. APIs power our interconnected world of apps and microservices, worldwide. As it is in any trend-turned-revolution, mass adoption took place before the details were sorted out. For example, APIs remain uniquely vulnerable to emerging security threats, and still aren't sure how to handle regulation.
More than seeing any one issue solved, I'm excited to see a complete, reliable ecosystem emerge. API analytics are just one part of that picture, but every small improvement counts. I'm looking forward to spreading the message, "APIs are here to stay, and they can run perfectly, everytime."
What are the values that drive you?
I'm a lifelong technophile, but more than anything, I value treating human beings like human beings. That's not a value Silicon Valley is known for. There are valid reasons for that, but I believe in the potential of technology to serve the common good.
Understandably, there's a spotlight on the ugly parts of big tech. Manipulative software. "Tech bro" culture. Runaway energy usage. Even amongst tech workers, I hear concerns about ethics. Who wants to believe their work is bad for the world? When we frame unethical businesses as the pinnacle of "innovation," it's easy to feel the entire tech industry is that way.
But, innovation itself is impartial. When I see headlines about "evil" tech companies, I see a social problem, not a problem with new tools. That's why I seek companies that embrace the unconventional for the benefit of the many, not just the few, and are honest about their ability to do that. That means awareness of their impact on employees, communities, and technology ecosystems. I do think the game is currently weighted towards bad-faith actors, but if anything is constant in tech, it's evolution - and big changes often start with small steps.
Even with a small footprint, every company daring to do better sets an example. I like to think we're doing that, here at Moesif. We're building towards progress in computing instead of seeking short-term rewards. Moesif functions as a "missing piece" to managing APIs. Whatever happens to the product, the niche we're establishing will further maturation of API technology as a whole. We do so while treating employees like real people, who sometimes face challenges or need extra support. That balance between achievement and responsibility makes me feel at home.
About Meeting Moesif
At Moesif, we help our customers understand how their APIs are used and how they can grow their API platform. Meeting Moesif highlights the people making that vision a reality. Our people-first culture values open communication, initiative, and impact—not to mention, perks like flexible working options that ensure employee wellness.
If you're interested in joining, you can start by learning more about what it's like to be part of Moesif. Our Meeting Moesif blog series offers a glimpse into our office life and how we expand API observability for all of our customers. Follow the link below to see other Meeting Moesif interviews with team members.