One of the most effective marketing strategies is to send emails based on the behavior of the recipient. By triggering on how your customers interact with your product, you're able to share content that's actually aligned with what they're doing and thus more likely to resonate.
By using automated email workflows it's possible to share über-relevant content at scale with large cohorts of customers. And through segmentation based on behavioral criteria, as opposed to demographic/firmographic criteria, you can move away from inflexible static drip campaigns and take account based marketing to the next level. While these strategies can be highly effective in the digital realm, don't forget that you can also optimize an Instagram account to further complement your overall marketing efforts and engage with your audience in a more visual and interactive way.
Within our own customer base we've been using sophisticated email workflows for some time. We've found that those who moved through the integration funnel from the sandbox stage to production engaged with targeted email content twice as much, as those who didn't progress. Furthermore, by optimizing content we were able to get a bump in engagement of 3x, thus improving the adoption funnel.
Middle of Funnel Optimization
In a companion blog post, How To Accelerate API Integration with Behavioral Emails and Developer Segmentation we examined how behavioral emails can drive customers at every stage of the integration funnel. In this blog post, we exclusively focus on the Middle Of Funnel (MOF) stage - where customers have signed up and made their first API request, but something's holding them back from taking their app to production. They remain in the sandbox stage.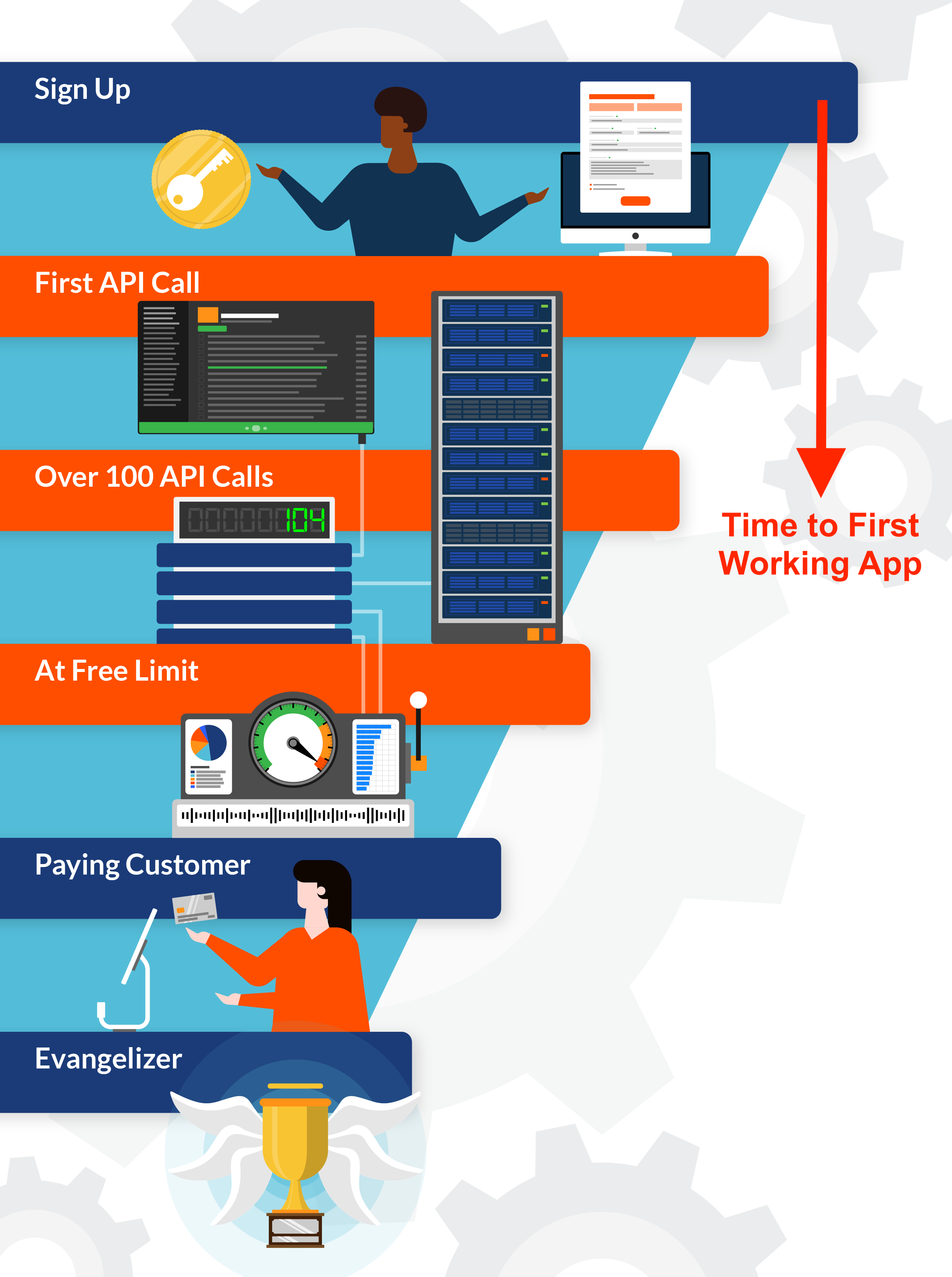 The time from initial sign up to rolling out to production is sometimes called Time to First Working App or Time to First Paid App. API platform providers look to optimize that metric and also maximize the number of customers moved into production.
Focus on Behavioral Segments
At the MOF stage, there's often a lot of different stakeholders that have to be won over before an enterprise sale can be completed. Now's the time to demonstrate the value your product brings and help remove any roadblocks that might be holding up the decision makers. When in stage of sending emails, highlight the value of your promotions, and consider using an SPF record checker or take other email security steps to increase deliverability.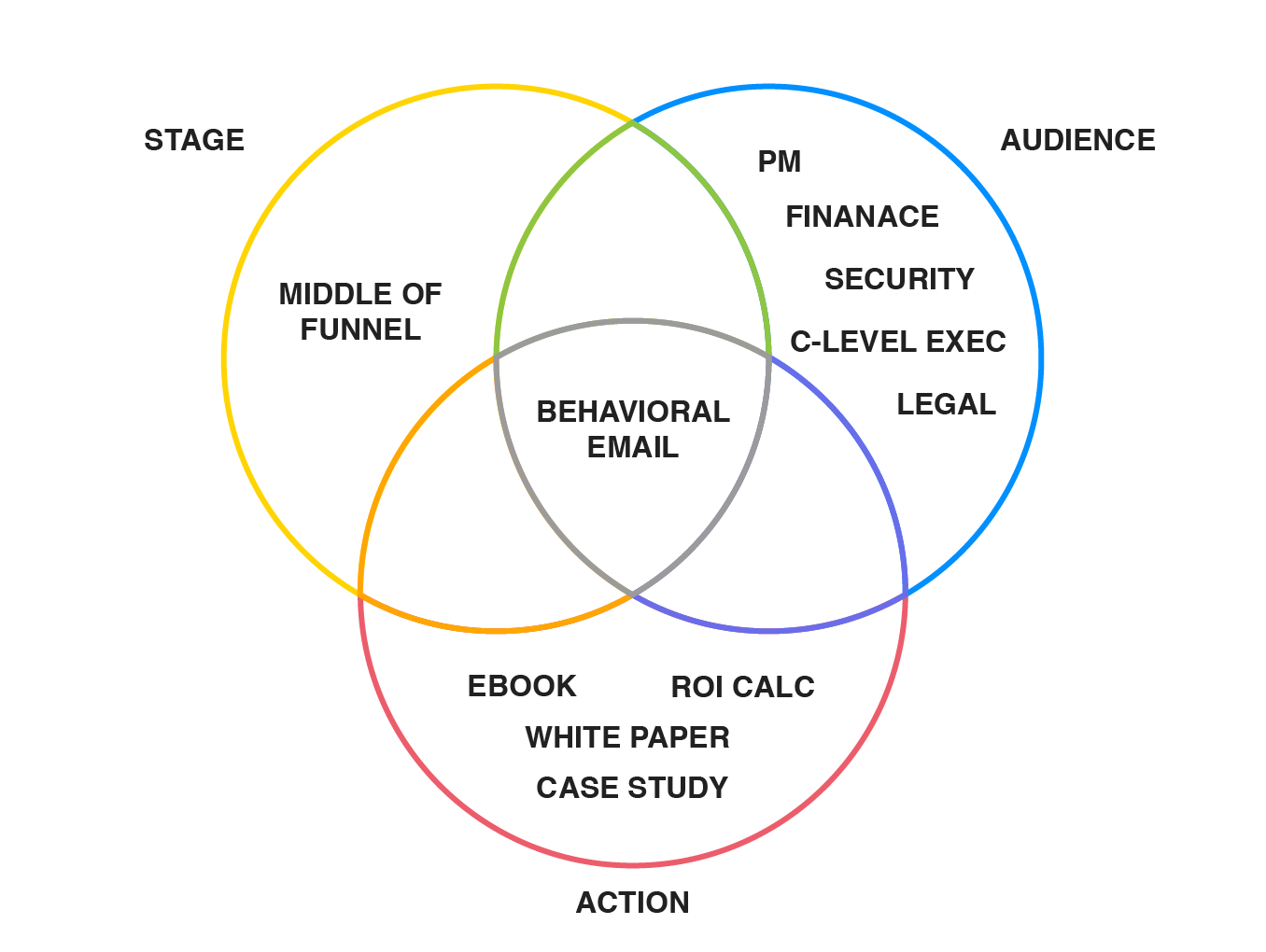 Behavioral emails should provide the right content, at the right time and to the right audience to be most effective. Key audience members include Product Managers (PMs play a key role in determining features, roadmap, cross-discipline management, documentation, etc), General Council (GCs focus on legal compliance), CSO (security review), CFO (finance analysis) and CEO (strategic fit). Additionally, developers need collateral and tools to help them with integration issues, as well as support with functional & performance testing.
Real World Results: Moving Apps from Sandbox to Production
Moesif has deployed MOF email workflows to thousands of customers. By tracking the interaction of users with behavioral emails and correlating that with data from our own analytics platform, we've been able to accurately determine the effectiveness of our marketing efforts, as shown in the table below.
| Email Area | Topic | Audience | Open Rate | Assistance in Conversion |
| --- | --- | --- | --- | --- |
| Feature Highlight | Dashboards | PM | ——+ | ——+ |
| Assistance | Design Review | Dev | ——+ | ——+ |
| Case Study | Driving Adoption | PM | +—— | ——+ |
| Feature Highlight | Scalability | PM | ——+ | —+— |
| Feature Highlight | Customer Comms | PM | ——+ | —+— |
| ROI Calc | Build vs Buy | CFO | —+— | +—— |
| Case Study | Corp Insights | CEO | +—— | +—— |
| Security* | Data Integrity | CSO | ——+ | +—— |
| Compliance* | Dev Adoption | GC | —+— | +—— |
* Estimate since not enough data
We found that the best way of demonstrating value of our API product and thus driving conversion is through case studies and feature highlights. By showing how our API platform addressed other customers' needs and what advanced features were available, those in the integration funnel saw what they could achieved with our product and how we could solve their pain points.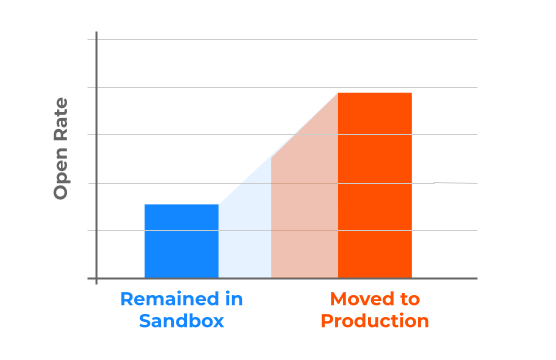 If we look at the universe of all customers who went through the workflow, we find that those who took their apps to production opened and interacted with emails twice as much as those who remained in the sandbox stage. Customers who developed production apps had an email open rate of 59%, approximately double that of those who remained in the sandbox. Engagement is proportional to conversion.
Increase Funnel Conversion with Behavioral Emails
The efficacy of behavioral email workflows has been shown in a real-world example. By using targeted emails in drip sequences we've been able to increase our conversion rate and decrease our customers' Time to First Working App.

Save Time And Resources With Behavioral Emails Workflows
Learn More