API Strategy
Four Of The Most Important Issues When Working From Home In An API Product Company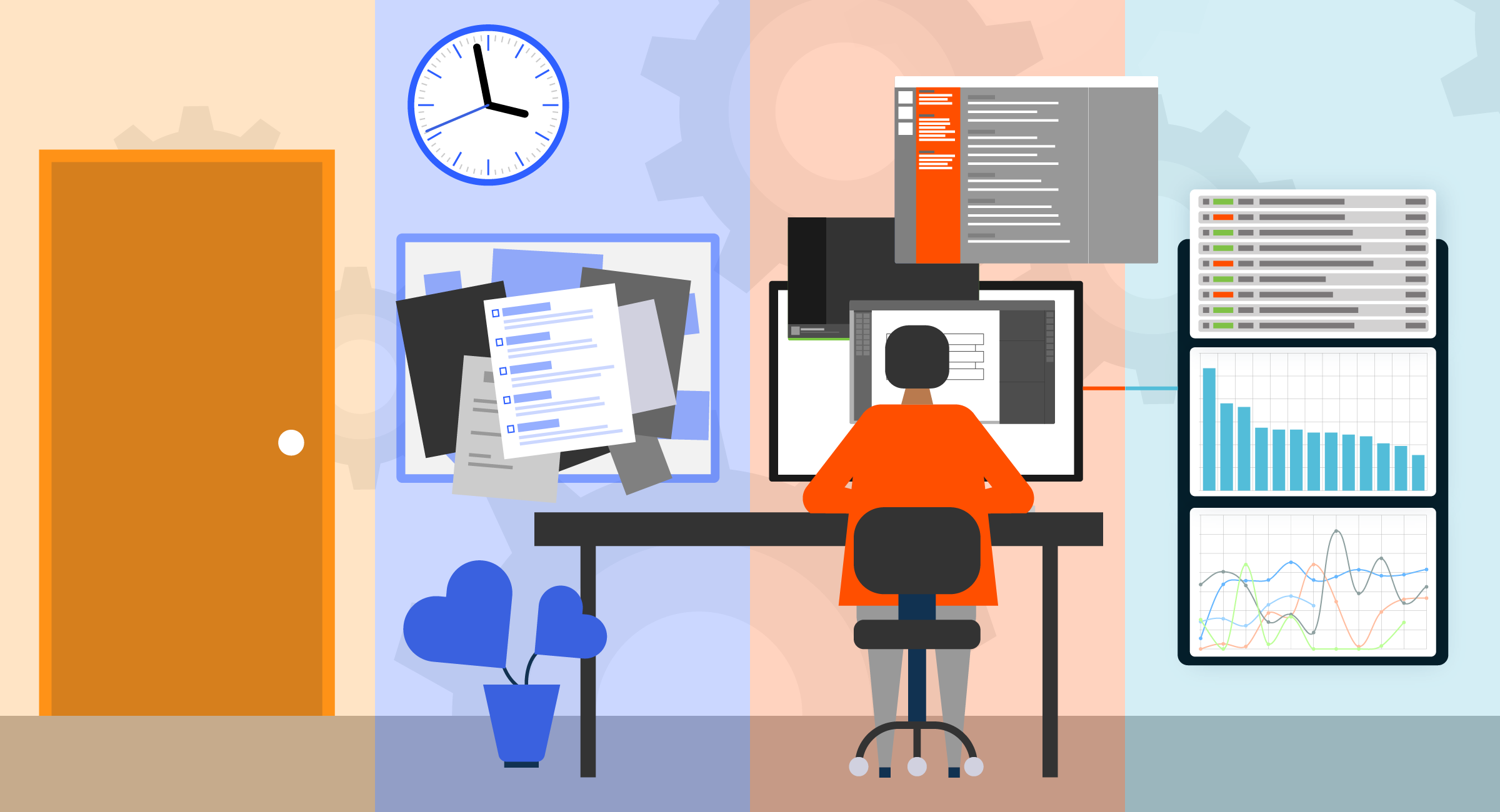 "When you're working from home you should try and do it systematically and methodologically," says John Bennett a veteran work-at-homer. "It's a lot like running a business from home, which is what I do".
John might know a thing or two about it, since he's been working from home in southern New Hampshire for the last 15 years. His company, John Bennett Strategic Marketing, has clients that range from big name-brand corporations to startups, and includes Heroku, Dell, Savvius, Yubico and Proofpoint, amongst others.
The most important considerations about working from home can be broken down into 4 simple elements:
Physical Space
Time Management
Technology
Alignment
Physical Space
Keep the office in the office and the home in the home
It's a good idea to have a dedicated space for work. And then the rest of your home. A separate office is ideal, but even if you don't, just allocate a space you can leave at the end of the day. Close the door; You're done with work. Unplug your work brain.
This is important for two reasons:
You're less likely to be disturbed or interrupted while you're working. You don't want to have the kids wandering into the room on a conference call or being interrupted by your wife wanting to know how to setup Zoom breakout rooms for her 5th grade class.
For your own sanity it's also important that work doesn't take over the whole place. You don't want to have it feel like you never leave the workplace: that topics keep coming up, devices keeping chiming and project plans are out on the breakfast table.
Your home working space is analogous to those music rooms back in college. You want to have some separation, so that if you're playing a quiet instrument, like a recorder or harpsichord, you don't want to hear the electric guitar blasting out from the room next door. You need some separation. So when you pick your location, how isolated can you make it? Is it a room where you can close the door, or a hallway then a door? Pick a place where you're going to really be able to sonically isolate.
Time
Break up your day into manageable pieces. You know when you're most productive, so schedule your day around that time. And try to keep to that schedule, especially at the beginning and end of the day.
Because you're not in an office, and you're not mixing with other people - for example, you're not having to go over to building three to get that answer from the people on that other project team - you can end up very sedentary. So, it's a good idea to get into the habit of going for a couple of short walks, assuming you can do this during the quarantine period.
"When I'm working on something especially hard, such as complicated messaging for a client, I go for a quick 15 minute walk to clear my head. It makes a world of difference," says John.
Tools Of The Remote Trade
We may well work in technology, but when working from home, we're also all big consumers of technology. We wouldn't be able to do the remote work we do without solid security, backup, distraction-minimizing, collaboration and project management software.
Security
You're doing work and you're using computers, tablets and phones. You need to make sure your devices are secure, so you can be productive. All of their operating systems should be up to date and they should be running security/AV software. We're big on Bitdefender and Malwarebytes, but there are mnay other great options out there.

Security Vendors
Backup
The last thing you want to do when away from the magical touch of your IT administrator is to lose work. Always backup, whether it's uploading the latest product spec in Word to Google Drive, pushing the new code branch to GitHub's repository or saving those Illustrator files to Dropbox. And set your backup to run automatically.
There's many established vendors that do a great job of backing up work to the cloud. Obvious candidates include Google Drive using their Sync & Backup app, Carbonite, Box and Dropbox.

Cloud Backup Vendors
Distraction-Minimizing
If you're concerned about being distracted by websites, games or even applications, then there are blockers out there that can limit anything from a website to the whole internet, or from a single desktop app to your whole computer. Most are free, or affordable, and you can do things like, say, block Facebook.com from 8:00 am to noon and 12:30 pm to 6:00 pm. Have a look at Cold Turkey, Freedom or Focus for more details on how to reclaim your productivity.

Anti-Distraction Vendors
Collaboration
Outside the office, software collaboration tools have replaced chats over the water cooler, paper, flip charts, post-it notes, and whiteboards. As working from home employees, we'll spend our time in Slack and G Suite, and on Zoom and UberConferences. Don't underestimate the power of seeing someone face to face and asking how they are at the beginning of a video call. When others know who you are, and can put a face to a name, they're much more likely to share information with you.

Collaboration Vendors
With the immediacy of Slack, chatting with a coworker becomes a quick DM away. Remember to indicate when you're available, so that collaborators don't lose their marbles waiting for a response. If they're not available, use Google Calendar to book an audience. Ultimately, both video chats and chat messaging are ephemeral information sources. Which brings us to our last piece of the technology puzzle…
Project Management
If you're working remotely as part of a team, then you'll need to keep track of tasks and coordinate what's going on with others. The industry leaders in project management are Asana and Trello. For working with multiple projects, our favorite project management tool is monday.com. All of these management tools make it easy to assign tasks, see what's being worked on across the team and communicate intra-team on projects and task.

Project Management Vendors
Alignment
When you haven't been in the conference room with ten other people in the morning, it's difficult to know what's the state of the business. It's more than just project management issues, it's being up to date with business metrics, goals and KPIs.
Where's the company at and where does it need to go? How are we doing and what do we need to respond to? What are the opportunities? What are the next steps?
If you're trying to instill a data-driven culture in your company, then it's important to keep everyone aligned to the same product KPIs and business goals. In a dispersed environment, it's especially easy for teams that aren't involved in the business side, such as engineering, to lose touch with what's going on in a wider context.
API product companies have found success in using Moesif.com's dashboarding feature to track their business metrics. For example, one of our fintech customers regularly shares a dashboard across their company containing plots of Daily Active Users (DAU), the integration funnel, HTTP status requests, KYC product usage, most active users, recent API errors and so on. A representation of their dashboard is shown below.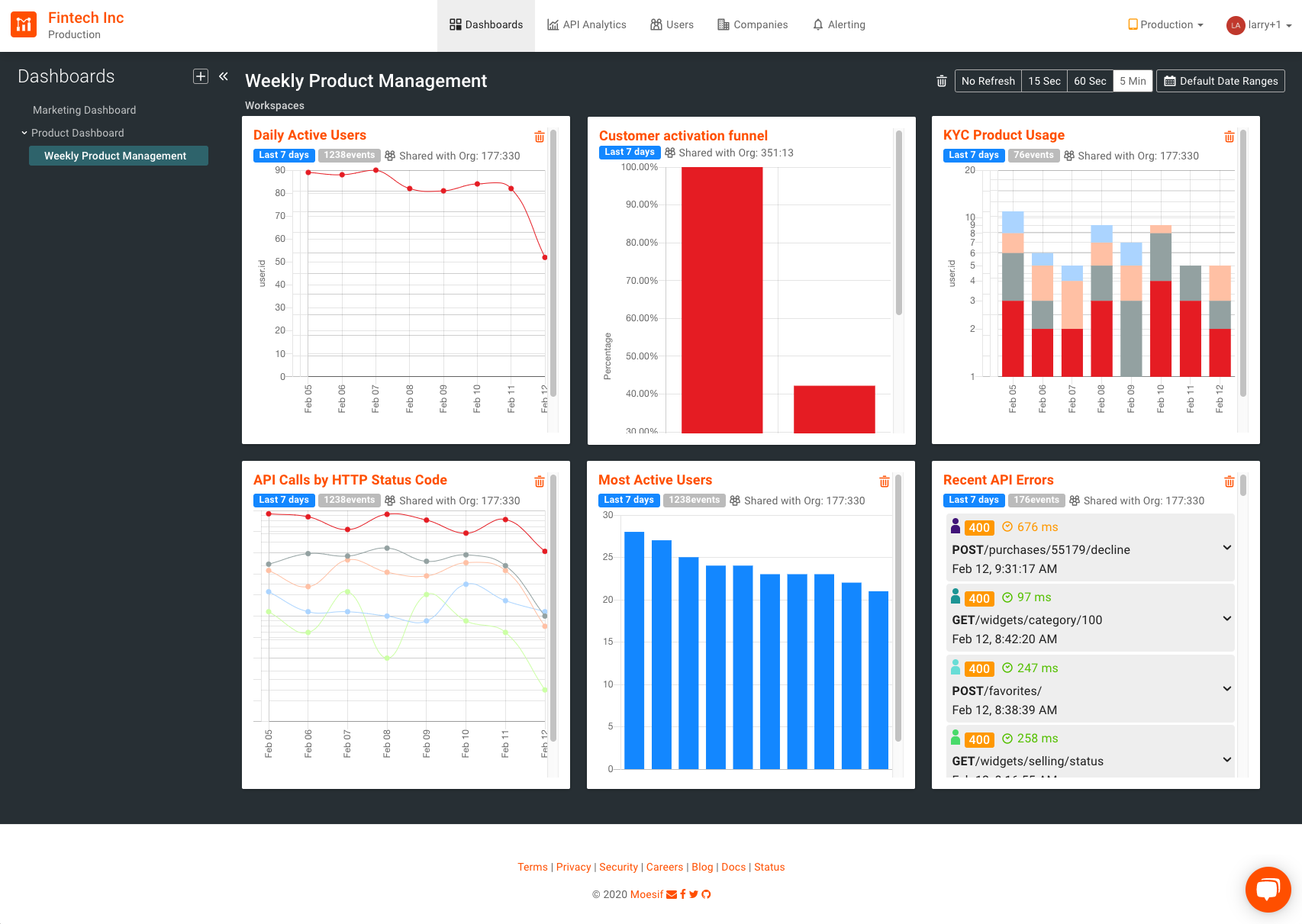 Moesif Dashboarding To Track And Share Business Metrics
Since our dashboards can be securely shared, crucial information can be easily disseminated across an organization, informing all stakeholders on the status of churn, product strategy, customer usage and many other important business metrics.
Conclusion
As many of us are sheltering in place facing a long stint of self-isolation, remote working needs to be as easy as possible. You can go a long way to make the experience a pleasurable one by controlling when you work and where you work, and by using the most appropriate tools of the trade.
As a human being sitting alone in an office working on something it's nice to think "Okay, that piece was needed here. This other piece got released. Those customers are doing well. Those others are in danger of churning." Knowing the current status of your business in handy dashboards is now more important than ever. Your corporate dashboards have become a sort of navigational map that will help your business get where it wants to go.
Find Out How to Get Aligned on Product KPIs and Business Goals
Learn More