Introduction to Team Dashboards
Team dashboards enable you to save and track key metrics that are important to you. There is no limits on the number of dashboards you can create and can organize dashboards such as by project, department, or other.
Dashboards are organized in a tree structure which you can view on the left side. Each dashboard is like a file directory in that it contains an arbitrary number of workspaces (charts), but also can contain other dashboards.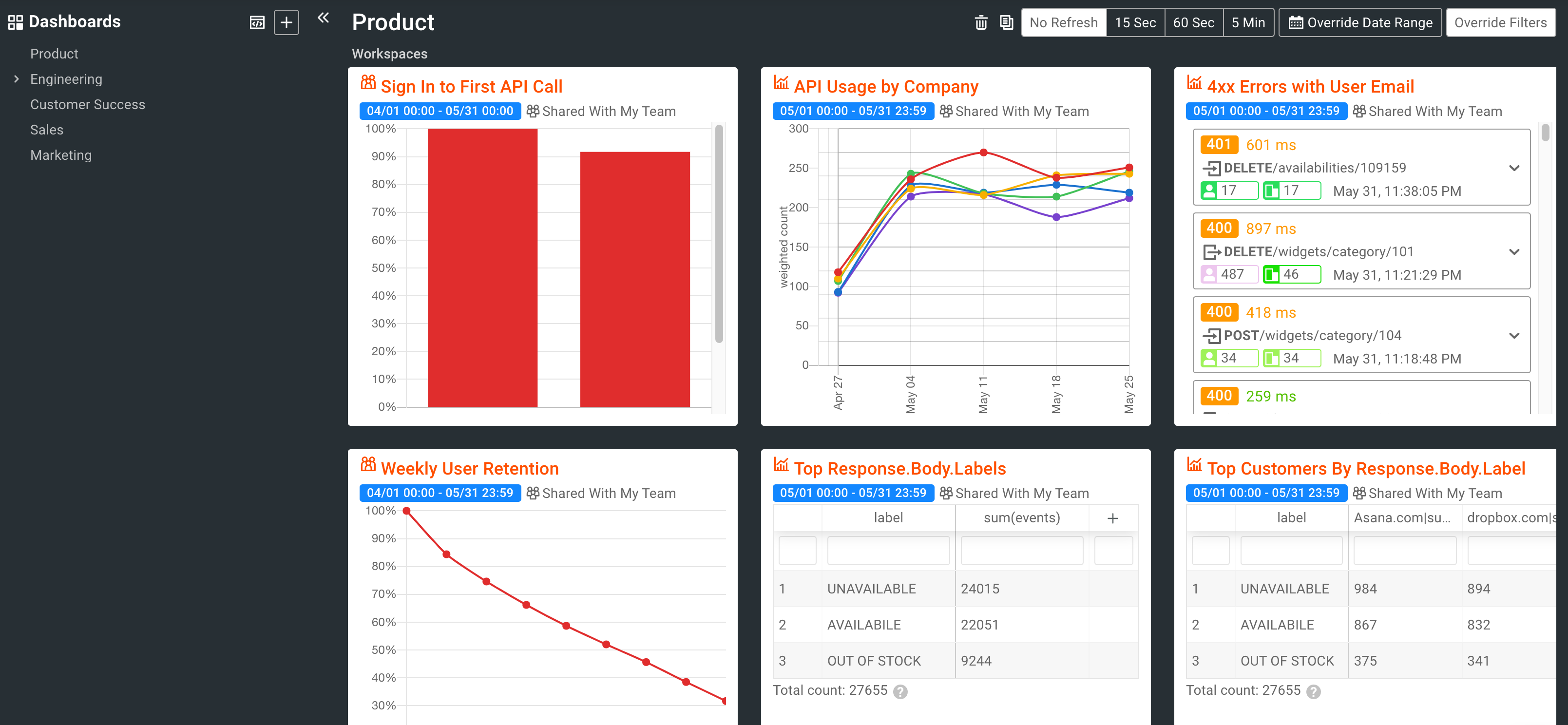 Default dashboard
Every Moesif account is prepopulated with a few dashboards such as for Product Team and Engineering Team based on the metrics Moesif seen as most important. This can help you with a good starting point and can modify or delete these dashboards as needed.
Dashboards actions
Dashboards can be rearranged by drag-n-drop. You can also up the name of the dashboard, or move the dashboard in the hierarchy. In order to change an actual metric, click on the chart to bring up the full view. Once you made your changes, click Update at the top right.

Deleting dashboards
In order to delete a dashboard, you must first delete any charts and other dashboards that a particular dashboard holds. for safety.
Copying dashboards
Moesif supports duplicating an existing dashboard to save you time vs creating a dashboard from scratch. This mechanism is a deep copy in that it will also duplicate all the charts within the dashboard. This means if you update a chart in a cloned dashboard, it will not impact the original dashboard.
Duplicating dashboards can be useful when you want a template dashboard that already contains all the metrics you want for all new projects or apps.
Refresh interval
By default, dashboards do not reload or refresh. However, you can select a time interval such as 15 seconds or 5 minutes you would like the dashboard to refresh. This can be useful if the dashboard is shown on a TV in the office and want it to be always up to date.
Date range
By default, each chart will use the date range you selected when the chart was created. This means your dashboard might contain some metrics looking at the last week and other metrics looking at the last 24 hours. You can quickly override the time range for all dashboards with the date range picker at the top right.