This guide assumes you are familiar with Alerts already. If not, please review API Monitors & Alerts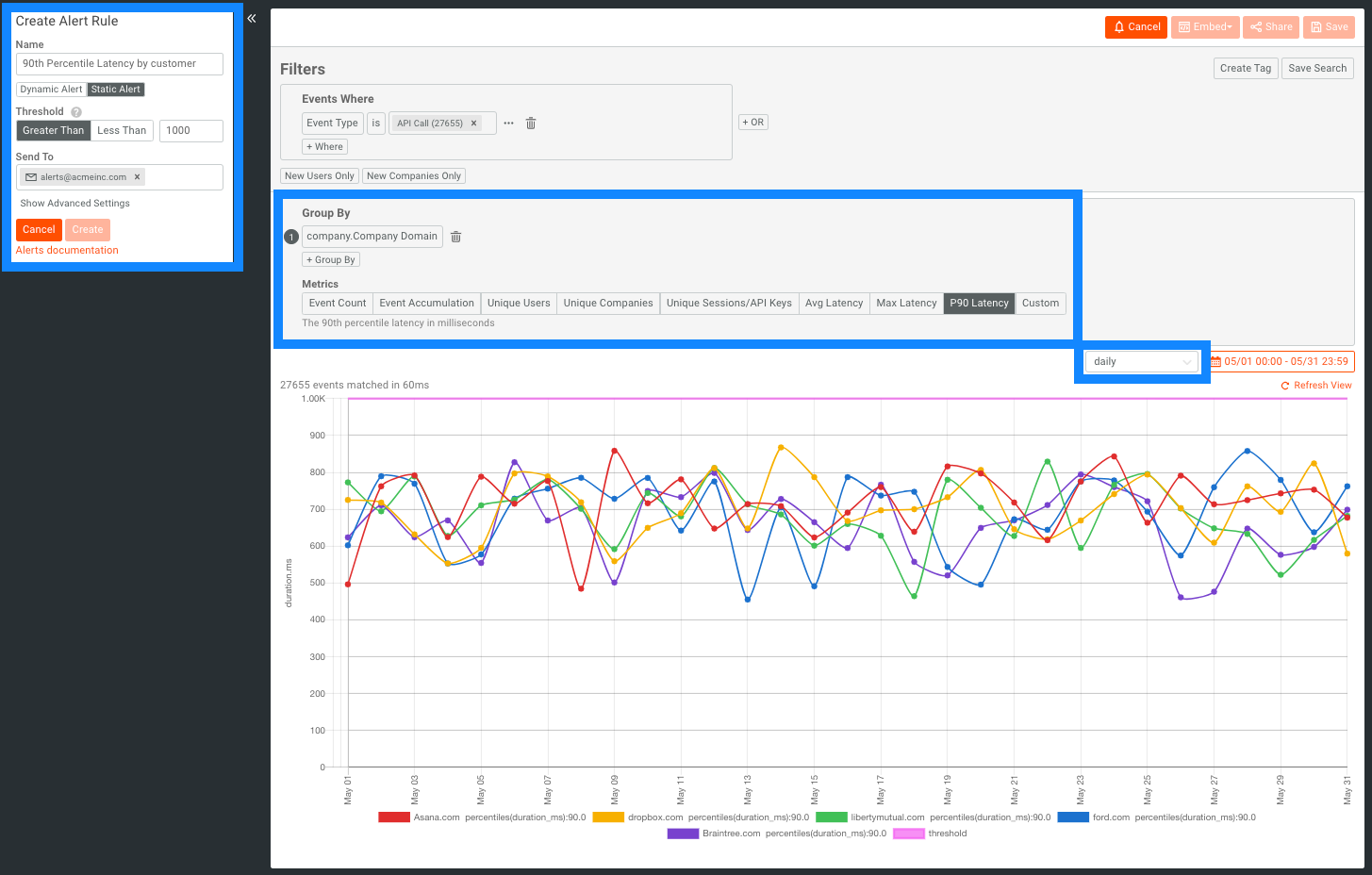 Adding an alert rule
To create an alert, open up a Time Series work-space. Set up API Filters and Tracking Metrics to show what you want to be notified about. This will define the rules of your alert. Once this is all set, click + Alert button.
We currently do not support time intervals greater than an hour, and freeform API filter criteria.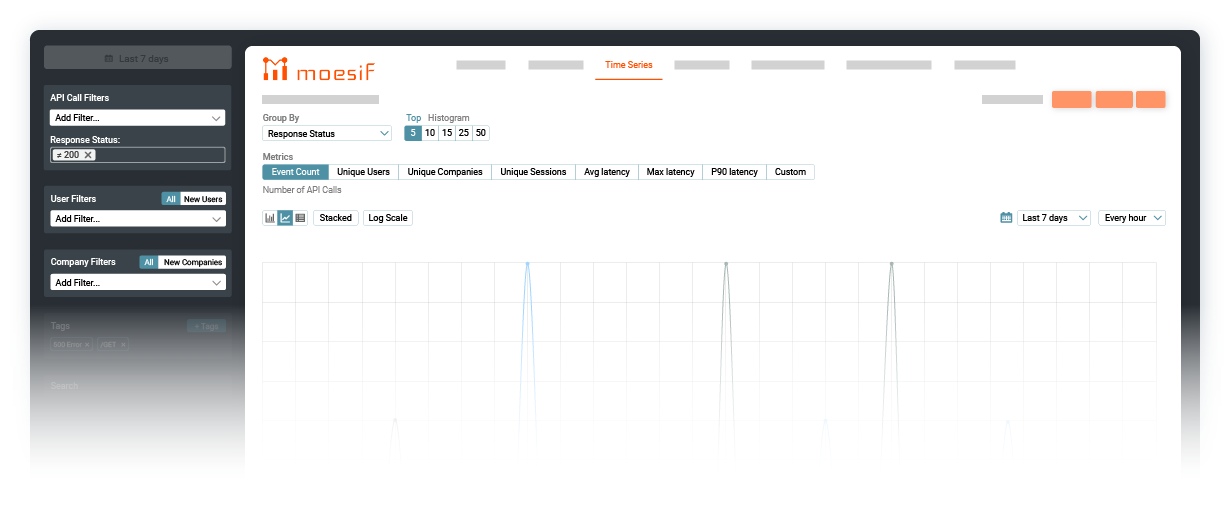 Alert Settings
In addition to the alert rules, there will be additional settings to configure.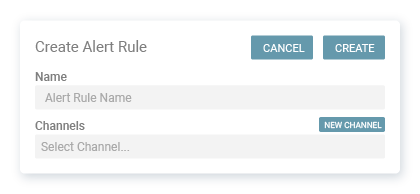 Alert Name: Select an appropriate name for your alert. Note: Currently, each alert name may only be used once.
Channels: Select the channel/s you would like to send the alert notifications to. If you already have channels set up, you may select an exsisting channel. If not you will need to set up new channels via the New Channel button.
Static Alert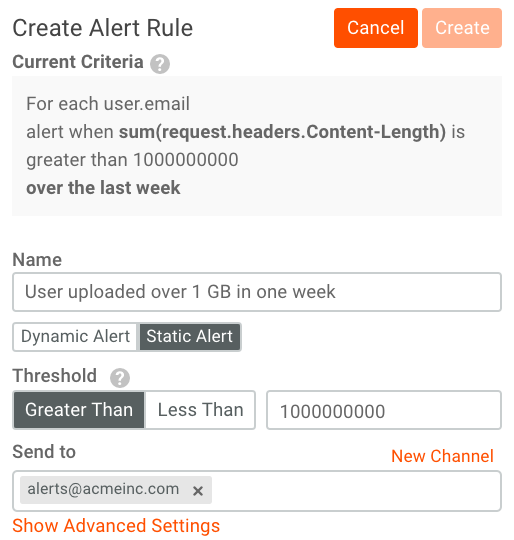 Static Alerts: This type of alert allows you to set a nominal threshold for your tracking metric for when the alert will be triggered.
Dynamic Alert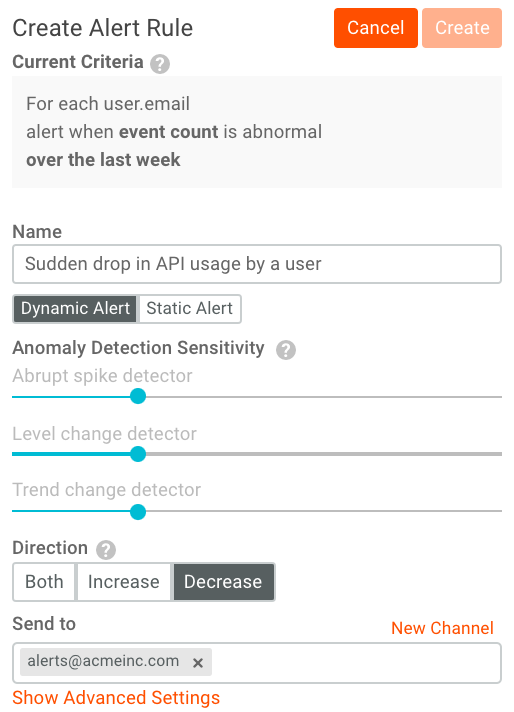 Dynamic Alert: this type of alert looks at historical data to learn what are acceptable error rates and only send alerts when there is a change. Because each application and environment is different Moesif still provides a way to change the detection sensitivities similar to modifying fixed rules.
If you feel that you're receiving too few or too many false alerts, you can adjust the sensitivity. To avoid sending too many alerts, Moesif doesn't use fixed rules like send alert when errors/min > 2%.
Moesif has slow, medium, and fast detectors. If you're receiving too many false alerts, drag slider right. If you want to be notified of every minor issue, drag the slider right.
| | | |
| --- | --- | --- |
| Detector | Alert Name | When to decrease sensitivity |
| Short duration spike detection | SPIKE | Your API receives a low volume of traffic so small fluctuations in error rates throws off the spike detector |
| Normal level change detection | RISE/FALL |   |
| Slow positive trend detection | POSITIVE TREND | Your API has seasonal patterns (such as an API only used during working hours which naturally has an increase in error rates at 9am) |
Advanced Settings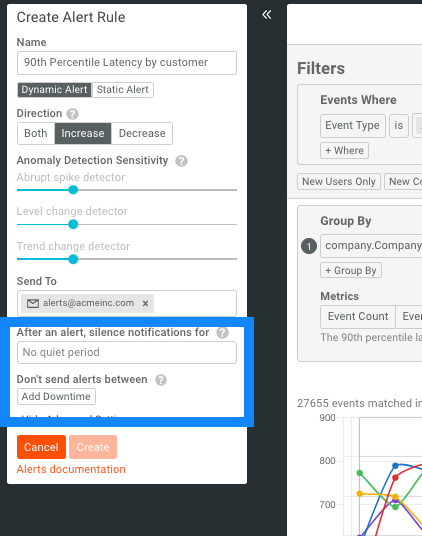 Advance settings allow you to define the maximum notification frequency and a maintenance window.
While Moesif tries to minimize alert fatigue, you can control this further by specifying the maximum notification frequency. If set to 15 mins, then if an alert was sent at 2:45PM, Moesif won't send a second alert for this same rule until 3:00PM at the earliest.
Maintenance window is a quiet period where alerts will not be sent. For example, if you have a cron job that performs some maintenance that brings down a service from 5AM to 6AM UTC everyday, you can set this schedule to avoid receiving false alerts.
| | | |
| --- | --- | --- |
| Field | Description | Example |
| Start Time | The start time for maintenance window in 24 hour clock time | 05:00 |
| End Time | The end time for maintenance window in 24 hour clock time | 06:00 |
| Timezone | The timezone to use for the start and end time | PDT |
Adding an Channel
In addition to being able to create channels while creating alerts, channels could also be created in Alerting by clicking on "Add Channel"
Moesif currently supports four types of Channel, email, sms, slack, and pagerduty.