Moesif's PagerDuty Integration
PagerDuty + Moesif Integration Benefits
Notify on-call responders about API functional and performance issues that are affecting customers
Utilize PagerDuty's routing and escalation rules in sync with Moesif alerts
How it Works
Alerts that are invoked in Moesif will be routed to PagerDuty to take advantage of the routing and escalation rules you have configured. Each alert that is sent to PagerDuty creates a new PagerDuty issue with the relevant details from the alert. Once the issue is created in PagerDuty, it must be manually resolved as Moesif does not resolve it automatically.
Requirements
PagerDuty integrations require an Global Admin base role for account authorization. If you do not have this role, please reach out to an Admin or Account Owner within your organization to configure the integration.
Support
If you need help with this integration, please contact [support@moesif.com].
Integration Walkthrough
In PagerDuty
In order for the PagerDuty and Moesif integration to work, you should have at least 1 service created. No configuration outside of this is needed in PagerDuty, simply follow the In Moesif instructions below to complete the integration.
In Moesif
Log into your Moesif account.
Go to Alert Rules in the left-side menu to bring up the alert rules and channels.
Click on + Channel in the top right of the screen and select the channel type to PagerDuty.
Click on Connect with PagerDuty button. You will be redirected to PagerDuty's website to authorize the Moesif application.
After authorization, you can optionally click on the Trigger button to send a test alert.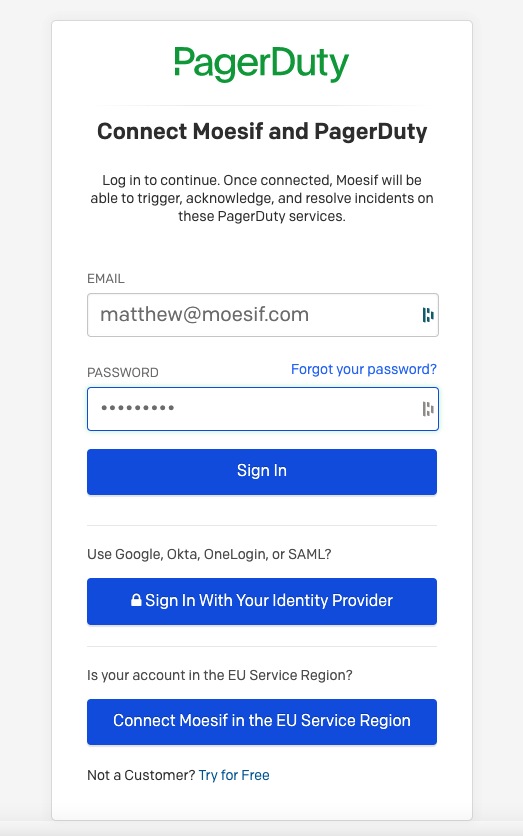 Choose the services that you would like Moesif alerts to post issues to and click Connect.

After creating the PagerDuty channel, You will have the option to select your newly created PagerDuty Channel when creating or updating an alert configuration in Moesif.
Optional Step: Verify Your Integration by Sending a Test Alert
Open up the channel details by click on the edit button.
Click on send test alert.
How to Uninstall
To uninstall the Moesif integration, simply delete the Channel using PagerDuty in Moesif. In PagerDuty, navigate to to the Services page and select the service(s) that you have integrated with Moesif. Click on Integrations, click on the settings button on the Moesif entry. Once in the Moesif integration page, click Delete Integration to delete the PagerDuty and Moesif integration from PagerDuty.