Moesif's PagerDuty Integration
Moesif's alerting feature detects hidden anomalies and misbehaving API transactions from all your production API traffic that ping tests don't catch.
Speed up your error resolution with PagerDuty and Moesif:
Moesif is a AI-powered debugging and analytics tool for APIs to help you resolve issues quickly.

Moesif's PagerDuty integration enables alerts to be sent to PagerDuty so the issue is known by the right person every time.

The integration supports rich context alerts with graphics so you can make quick decisions right in PagerDuty.
How to setup Moesif with PagerDuty
This setup guide is specific to the Moesif PagerDuty plugin. For general Moesif info, view product features.
Log into your Moesif.com account

Go to Alert Settings -> Top Right Menu-> Alert Setting.
Click on the Alert with PagerDuty button. You will be redirected to PagerDuty's website to authorize the Moesif application.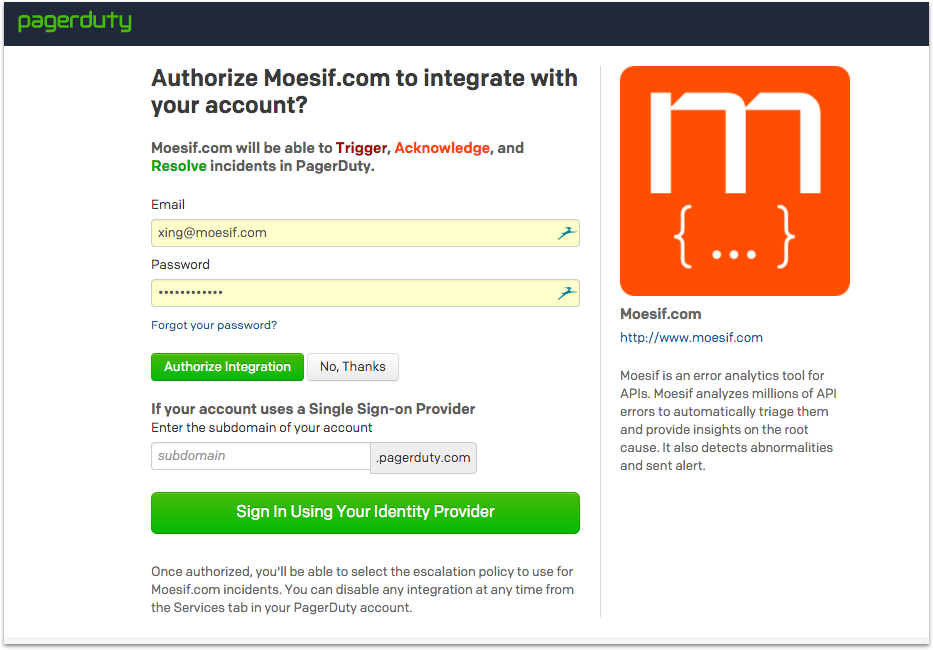 After authorization, you can optionally click on the Trigger button to send a test alert.

After creating the PagerDuty channel, add or edit your Alert Rules to add the PagerDuty channel as an active channel to the rule.