Introduction to User & Company Behavior
This guide assumes you are familiar with Users and Companies.
User & Company Analytics is the go to section for any analysis centered around individual customers and their behaviors (rather than API and web usage). You can look up customers based on their properties and create reports to better understand you're user base composition. You'll find complex user behavior reporting here also like funnel and retention analysis.
Because Moesif is a User Behavior Analytics platform, much of the analysis will also involve what a customer did (in terms of API calls and in-app user actions).
Note that events may take up to 20 minutes to show up in the user analytics screens. If your data has not shown up, please try again later once the data has had time to filter over.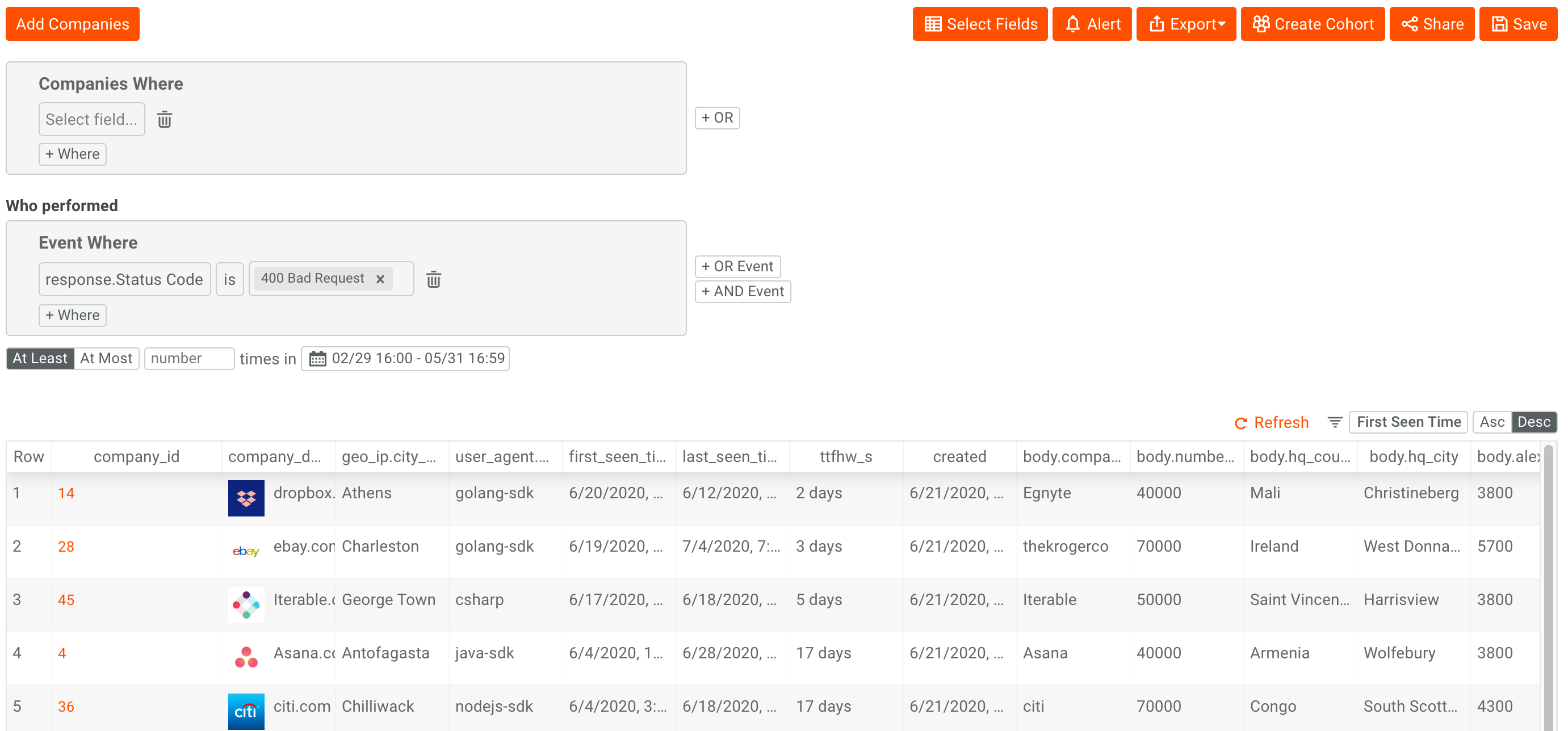 Moesif has two types of customer entities: users and companies.
Users
A user is simply a single person accessing your API. If your business is B2C, this may be all you need to track. However, if you have a B2B or partnership business, that user may be associated with a company.
Companies
A company is a groups of users that belong to the same account. This is sometimes called a tenant or organization. By making companies first class entities, you're able to track users and companies separately. If your business is B2C, you may not need to use companies.
User/Company fields
Both user and company entities have a number of predefined and reserved fields. You can also store arbitrary data under 💾 Metadata.
| Filter | Description |
| --- | --- |
| 💾 Metadata | Object containing your custom user metadata. |
| 🧭 Campaign | Object containing Referrer and UTM parameters to track effectiveness of your acquisition channels. Set automatically by moesif-browser-js, but not with server side SDKs. |
| 💡Clearbit | If User Email field is set, Moesif will enrich this user profile with data from Clearbit |
| 🏢 Company | If this user is a member of a company, this contains the linked company's properties |
| 🌎 Geo IP | Object containing last known geo information using based on customer's IP address |
| 💻 User Agent | Object containing last known user agent information |
| User Id | The User Id assigned by Moesif which can be either an Identified User Id or Anonymous Id |
| Identified User Id | The identified user id set by you such as by the identifyUser function. If not set, this user is anonymous. |
| Company Id | The company that this user belongs to. A company is a group of users such as an organization or account. |
| User Email | The email associated with this user and is a special field that can be set within user metadata. Moesif uses email for sending behavioral emails and also to automatically enrich user profiles with demographic info from Clearbit, Github, etc. |
| Phone | The phone number associated with this user and is a special field within user metadata. |
| Created | The time this user was created in your Moesif account. |
| Last Modified | Last time this user's metadata was modified by you via UI or API |
| First Seen Time | First time this user performed an API call or user action. |
| Last Seen Time | Last time this user performed an API call or user action. |
| TTFHW | Time from user created to first API call or user action. Other metrics can be created under funnels. |
| Auth/Session Token | All API Keys or Session Tokens this user has used. View identification of users |