This guide assumes you are familiar with users and companies already. If not, please review the Introduction to User and Company Analytics
The User/Company Lookup allows you to filter and view customers by their profile properties like a CRM. You can also filter based on what the user or company performed in terms of API calls and user actions.
An example
To see all self-service users who are running into 400 errors, you can add two filters:
Users that are not on an enterprise plan (a custom user property)
Users who made at least 1 API calls in last 7 days that resulted in a 400 error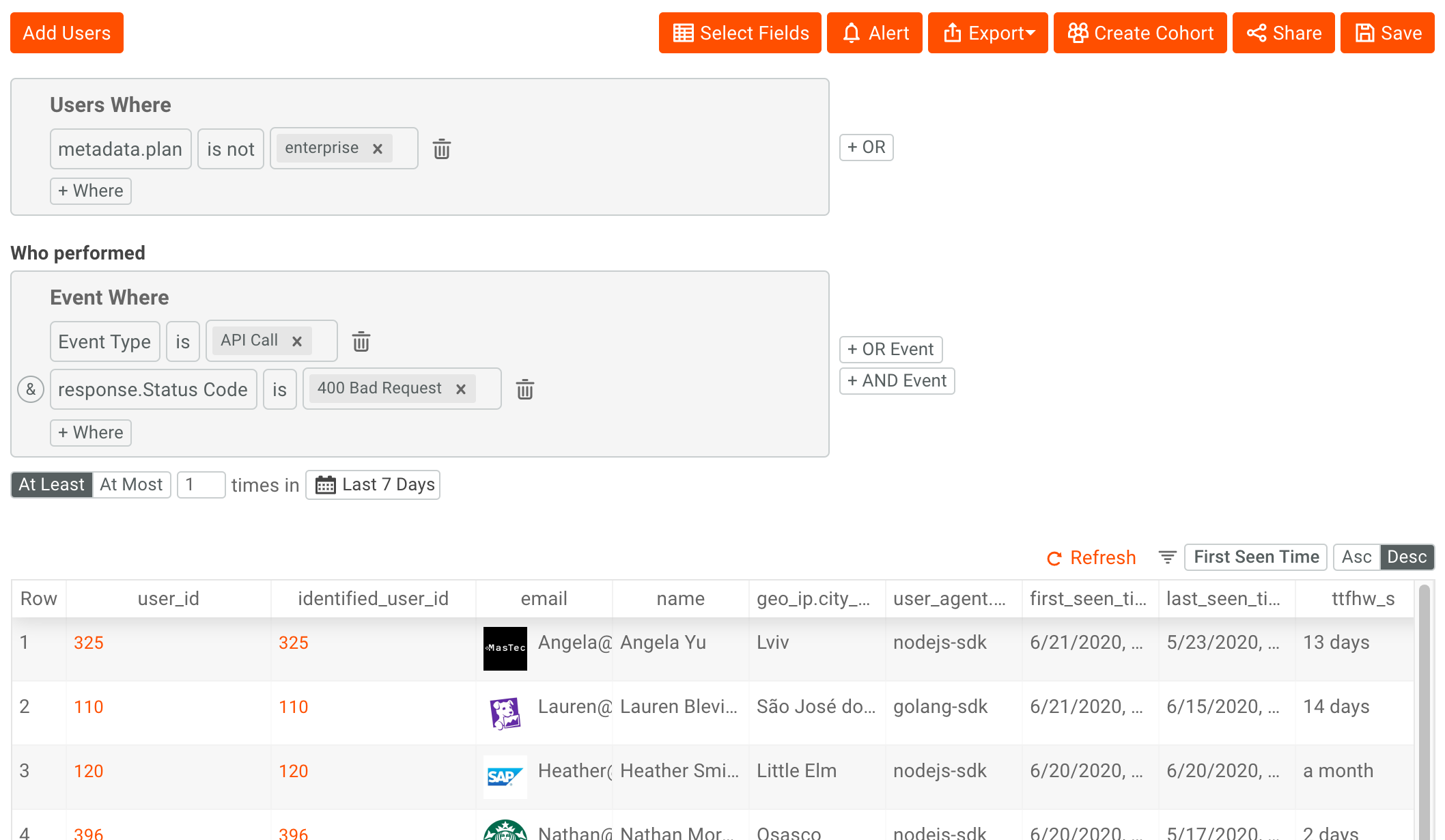 As seen above, user/company lookup supports two types of filters:
User/company filters
These filters enable you to filter on user or company attributes like email, name, and created time. Besides your custom metadata., Moesif also tracks certain fields automatically such as First Seen Time and Geo IP information. The below fields are for user entities, but are similar for companies.

| Filter | Description |
| --- | --- |
| 💾 Metadata | Object containing your custom user metadata. |
| 🧭 Campaign | Object containing Referrer and UTM parameters to track effectiveness of your acquisition channels. Set automatically by moesif-browser-js, but not with server side SDKs. |
| 💡Clearbit | If User Email field is set, Moesif will enrich this user profile with data from Clearbit |
| 🏢 Company | If this user is a member of a company, this contains the linked company's properties |
| 🌎 Geo IP | Object containing last known geo information using based on customer's IP address |
| 💻 User Agent | Object containing last known user agent information |
| User Id | The User Id assigned by Moesif which can be either an Identified User Id or Anonymous Id |
| Identified User Id | The identified user id set by you such as by the identifyUser function. If not set, this user is anonymous. |
| Company Id | The company that this user belongs to. A company is a group of users such as an organization or account. |
| User Email | The email associated with this user and is a special field that can be set within user metadata. Moesif uses email for sending behavioral emails and also to automatically enrich user profiles with demographic info from Clearbit, Github, etc. |
| Phone | The phone number associated with this user and is a special field within user metadata. |
| Created | The time this user was created in your Moesif account. |
| Last Modified | Last time this user's metadata was modified by you via UI or API |
| First Seen Time | First time this user performed an API call or user action. |
| Last Seen Time | Last time this user performed an API call or user action. |
| TTFHW | Time from user created to first API call or user action. Other metrics can be created under funnels. |
| Auth/Session Token | All API Keys or Session Tokens this user has used. View identification of users |
Event filters
Event filters enable you to filter based on the events that a customer performed. Evens can be either one of the following:
API Calls which are tracked from a Moesif server agent such as as GET /items
User Actions which are events triggered in your UI such as "Signed-In".

Since a user or company may have performed thousands or millions of events, to narrow down your criteria, you can use the time range or occurrence times. For example, to filter by users who saw at least 10 errors in the last 7 days, we can set the time range to 7 days and occurrence times to 10.
Numeric aggregations
Besides equality, event fields also support aggregations such as average, max, or distinct. For example, we can create a cohort of users who accessed your API with over 10 distinct IP Addresses per hour anytime over the last 7 days Similarly, you can create a cohort of users who's average latency is over 1 second. This can be done like so:

Grouping filters
You can also add groups of filters enabling order of operations. For example, we want to match users who either 1. Had an order 500 error only when they placed a buying order OR 2. made an explicit API call to decline.
Table Actions
With your users/companies table, you can take a variety of actions:
Select Fields
You can modify the columns that are displayed in the table by clicking this button. This is also used to modify the columns selected for export.
Alert
For each user or company, you can create an alert such as when a customer's usage drops or increases. This will open a pop up in the time series view for you to create your alert criteria.
Export
Enterprise customers can bulk export all users or companies based on any filter criteria. Once the export is finished, you will be sent an email where you can download the CSV or JSON file.
Create Cohort
Saved cohorts are groups of users defined by their properties and events they performed. An example cohort might be Users who are exceeding rate limits in the last 24 hours. Think of cohorts like a saved list of users that matches some criteria and is continuously updated in the background by Moesif.

Once the cohort is saved, you can target the cohorts with Moesif's automation features like triggering behavioral emails and dynamically sampling customers.
Share/Save
You can share the view to a dashboard of your choice. Dashboards make it easier to monitor groups of users over time. Any chart already saved to a dashboard can be modified by clicking the save button. In addition, you can share the chart with others using Share