API Strategy
Customer Health Metrics Help CSM Teams Reduce Churn and Accelerate Upsell in API Platform Companies
One of our API-first brethren in San Francisco recently shared with us how they built their synthetic testing system to monitor uptime and latency. It was a large undertaking involving a huge Redshift warehouse, Datadog and many man-months of engineering effort. At the end of it, they could measure latency's completeness, whether it was functionally correct and, when it moved out of bounds, alert CSM/engineering teams.
Infrastructure metrics are certainly important, but today's CSM teams ultimately care about whether they're making their customers successful, and if they're not, they want to know as early as possible. By tracking customer health metrics it's possible to become prescient when customers are at risk of churning, or conversely when they've outgrown their plans.
Prescient CSM
With Moesif's user-centric approach, you can monitor end-to-end customer experience and get alerted when individual customers are running into functional or performance issues. Similar to our fellow San Francisco's API-first company, we've built a system that continuously monitors and learns what normal API behavior looks like. However, our API RUM (Real User Monitoring) solution operates over more than just infrastructure metrics—we focus on key customer criteria in the adoption, engagement and retention phases. Our advanced anomaly detection algorithms let you discover unknown unknowns and leading indicators of churn.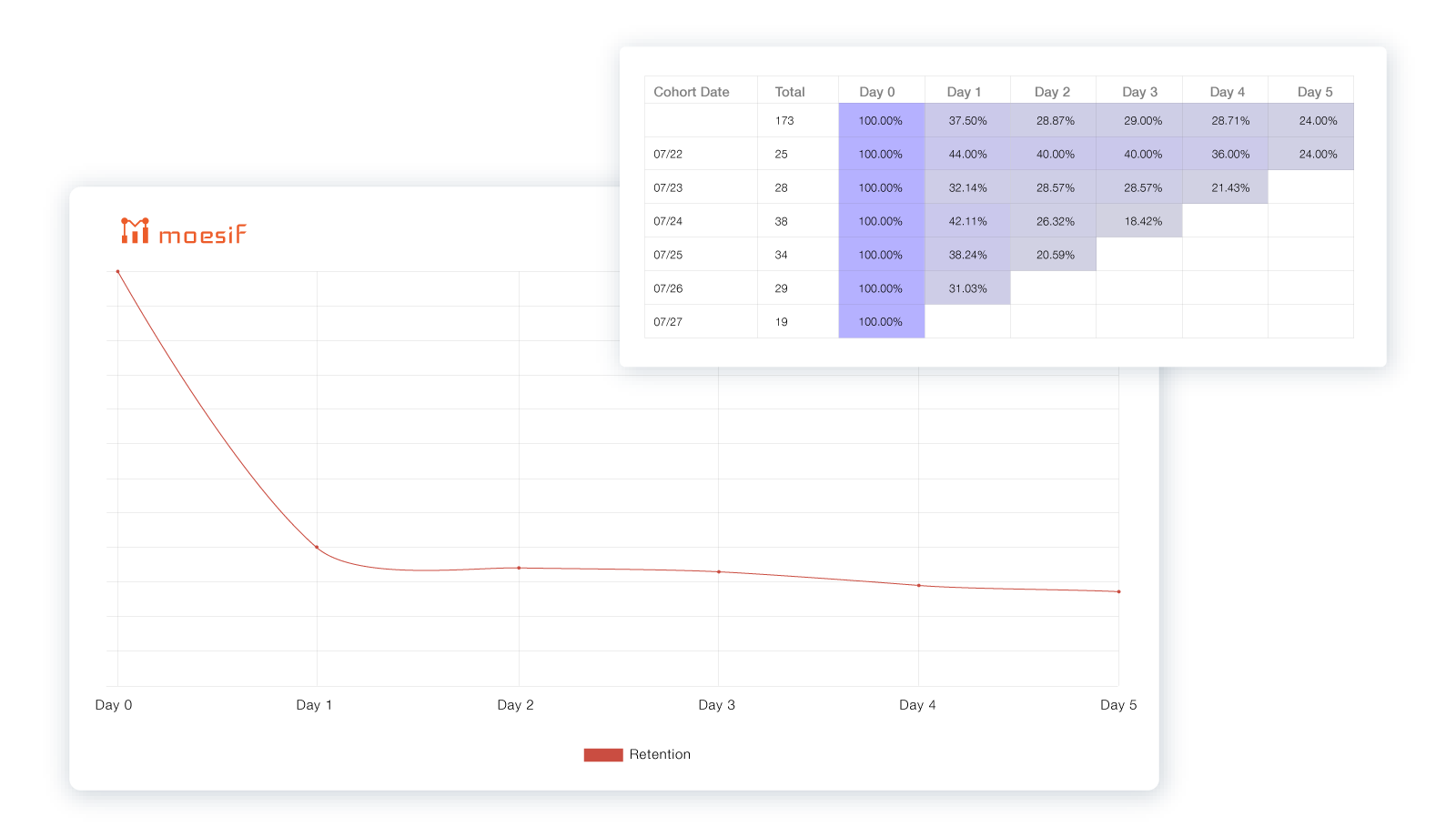 Moesif's not only good for managing retention, our platform also helps with upsell. As the old adage goes, timing is everything—if you broach pricing increases too early you're likely to exasperate your client, whilst if you're too late, the opportunity may pass you by. Since it's far cheaper to retain customers, especially ones who are exceeding their quota, hitting that timing sweet-spot is critical. Set your API call quota thresholds once in Moesif and then forget about them. We take care of monitoring in the background and then alert you when usage levels approach your customers' subscription thresholds. Be data-driven and close the opportunities that are ready for expansion.
Granular Alerting
We've revamped our alerting capabilities to support daily or weekly trend alerts, as well as real-time notifications. Sophisticated alerts can be created on any chart with a single click. Stay informed when customers run into issues, experience anomalies or performance issues. Segment, score and get altered on customer health, based on metrics like weekly active API tokens, daily 4xx errors, 95th percentile latency and many more. Get empowered to deliver personalized messages to at-risk customer segments.
Not only can we identify which customers run into issues with your API, or have a bad customer experience, but we also enable you to perform root cause analyses on why customer's don't come back. See our guide on growing your platform business, for more information on cohort retention analyses.
Integrations & Reporting
Send alerts with rich context using your favorite tools like PagerDuty and Slack. The same alert can be sent over multiple channels, including SMS and Email, supporting an escalating hierarchy of notifications. Have a first level post to Slack and then the second level fire to PagerDuty. If needed, escalate via SMS to engineering or whoever is on call for that system.
Moesif also connects to tools like Salesforce, Hubspot, and Zendesk amongst others, for a customer-driven approach to customer success.
Get periodic reports on which customers are at risk of churning or have low API usage. Easily create custom dashboards from your reports and tell stories with your data. Securely share the dashboards across your organization and with partners.
Limit the number of extraneous alerts in your reports by employing Moesif's correlation engine and rating system to consolidate and filter out repetitive/uninteresting notifications.
User-Centric Customer Health
The average cost of acquiring a new customer is between 5X and 25X the cost of retaining an existing one. That was in the pre-COVID era. In today's world, it's probably more. Identifying which of your customers are at risk of churning and which are ready for an upsell, is now more important than ever. Through Moesif you're able to get early alerts on key API metrics, link them back to specific customers and take proactive action before it's too late.
Learn More About How Moesif Stops Churn
Learn More