Moesif Recognized as a Sample Vendor in 2023 Gartner® Hype Cycle™ for both API Observability and API Monitoring
Open-Source Developer Portal
Streamline building a custom payment and developer experience by using Moesif's recently-released open-source developer portal, currently in preview. The developer portal provides a boilerplate experience for customers to subscribe and start paying for your APIs
The initial preview version supports Kong Gateway, Tyk, and AWS API Gateway. Moesif and Stripe is used for payments. As an open-source project with a modular design, easily replace components as your requirements and use your favorite IDE/text editors.
Streamline deploying a developer portal
Build a beautiful, custom developer experience with Moesif's open-source developer portal
As open-source software, it offers full control over the code so you can customize to your brand.
Provide a secure path for customers to get started with your APIs via IdP providers Okta and Auth0.
Make it easy to subscribe and pay for APIs
Provide a self-service way for customers to subscribe and pay using Stripe and Moesif.
Initial release has integrations with Kong Gateway, Tyk, and AWS API Gateway.
With its modular approach, you can replace components as requirements change.
Provide a great developer experience
Delight self-serve users with metrics on usage and history.
Automatically send emails to customers on their subscription usage.
Empowers developers with debug logs so they can quickly identify integration issues.
How it works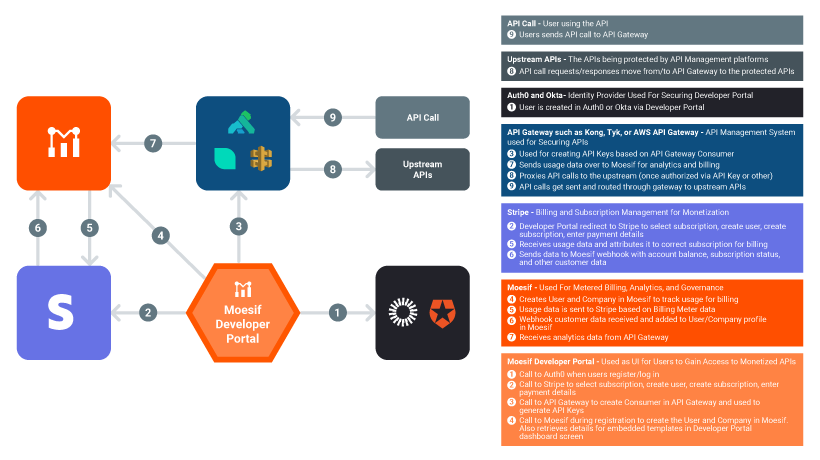 Ready to get started?
Join thousands of developer-first platforms using Moesif to improve developer experience.